Solving the problem of avoidable readmissions is a big job and an important one for hospitals as they attempt to thrive in an industry that is becoming more and more focused on value. There are a number of programs that use penalties and reimbursement incentives as motivation to push hospitals to reduce avoidable readmissions. One is the Hospital Readmission Reduction Program (HRRP) that was created under the Accountable Care Act. HRRP penalizes hospitals that have relatively high Medicare readmission rates. Another incentivizing model involves payers offering financial rewards to Accountable Care Organizations for lowering hospital readmission rates. While these and other programs have triggered a decline in readmissions (CMS reports the national readmission rate declined by approximately 2% during the first year of the HRRP) there is still work to be done.
CMS data shows that more hospitals were penalized in 2015 under HRRP than during the previous year. This was partially due to the fact that more conditions were added to the list of diagnoses being measured. The program originally was set up to measure readmissions that followed initial hospitalizations for heart attacks, heart failure, and pneumonia. In 2015, chronic obstructive pulmonary disease and elective joint replacements were added to the conditions that are measured. Now it has also been announced that coronary artery bypass graft surgery will be measured starting in 2017, and other conditions are likely to follow.
Clearly not every hospital readmission is preventable. But when it comes to avoidable readmissions, there are solutions hiding throughout the hospital discharge process. Hospitals that are serious about reducing readmissions know that making improvements to the care administered just before and after discharge can make a big difference.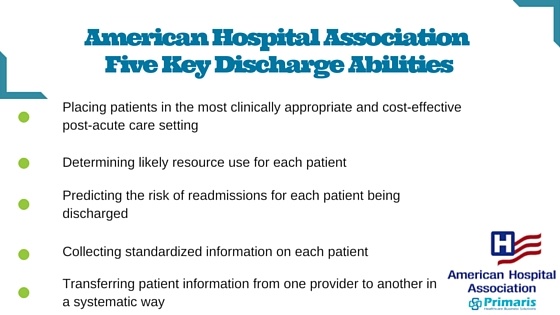 These points are a call-to-action for care coordination and show that hospitals need to work with outside providers at points before and after discharge. Here are some examples of areas where hospitals can direct their focus in order to reduce readmissions:
Assess patient risks prior to discharge and the try to determine the likelihood of readmission. Flag high-risk patients for closer monitoring.
Focus on making care transitions seamless. Communicate with post-acute care facilities and make sure they have the information they need to deliver appropriate, patient-centered care to patients once they are released from the hospital.
Take greater responsibility for arranging follow-up care. Work with patients prior to discharge to schedule follow-up appointments. Connect with family members of patients to be sure that patients have the support they need if they are returning home. Arrange for services to have medications delivered, meals prepared, transportation provided for follow-up appointments, and so on.
Strengthen relationships with other community providers. Put processes and technology in place to allow for multi-way communication. Notify primary care physicians and specialists about the condition of their patients. Work together with outside providers to ensure patients receive the post-discharge treatment they need.
These are just a few of the steps hospitals can take to coordinate care and make sure that patients do not struggle unnecessarily after being discharged from the hospital. By investing in efforts to reduce readmissions, hospitals can take advantage of opportunities to improve care and financial outcomes.