When it comes to data abstraction, one of the choices hospitals must make is whether to tackle the work on their own, or outsource abstraction. There are several factors that should weigh into this decision, for example, cost, know-how, staffing and availability of other resources. At Primaris, we know the benefits of finding a reliable partner for abstraction. We also know from having many conversations with hospitals, that healthcare teams often don't have a clear understanding of what to expect when outsourcing abstraction work. So, we put together a few examples of how life changes for the better when your hospital finds the right partner to perform data abstraction. Here are three things you should anticipate happening when you outsource data abstraction:
You can worry less about stressful reporting deadlines.
Any hospital staff member that has ever worked on data abstraction knows what a big responsibility it is. The work is detailed, time consuming, and seemingly never ending. It needs to be done accurately and in a timely manner. So when a reporting deadline is looming, and you have more charts to get through than time to do the work, it can be stressful. Throw in the fact that there are often competing priorities, like getting pulled into a meeting at the last minute, and the pressure builds. But outsourcing data abstraction erases this stress. Outsourcing allows you to stop sweating about not having enough time in your day, and it allows you to let someone else handle the pro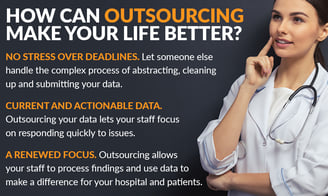 cess of abstracting data, cleaning it up and submitting it prior to deadline.
Your data becomes more current and useful.
When hospitals are not able to dedicate enough resources to data abstraction, they end up with a backlog. This is a common problem that Primaris witnesses quite often. In fact, we have rescued hospitals from some pretty frightening data buildups.A lot of times these backlogs happen when a decision is made to go with in-house abstraction even though it puts a strain on the internal staff. But eventually breakdowns happen and work piles up. The problem with having an accumulation that goes back 12, 18 months or further, is that you lose the ability to respond quickly to issues, or make data-driven improvements. On the other hand, if you outsource abstraction and the turnaround time is short, your data is much more current and actionable.
Your energy shifts toward quality improvement.
What happens when a hospital's internal staff isn't consumed with abstracting data? Do they sit around with nothing to do? Does their value decrease? Hardly. When abstraction is reassigned, internal team members can focus on tasks that bring more value to the hospital, like using data to make strategic quality improvements. Suddenly your team members that were preoccupied with abstraction have more availability to process findings and use data to make a difference for your hospital and patients.
Read, "Why Outsourced Abstraction is Best," to learn about complications that can occur when you abstract data in-house.
These examples are just the tip of the iceberg. Outsourcing data abstraction can make life so much easier, data more actionable, and quality better. To learn more about the benefits of outsourcing data abstraction, email us today at engage@primaris.org.