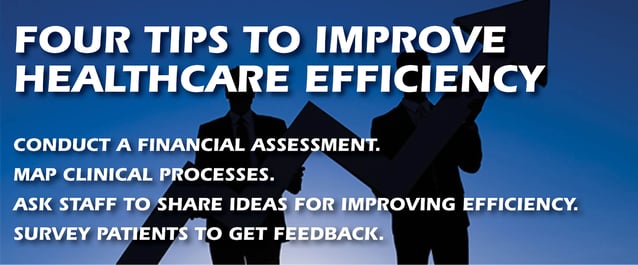 As the healthcare industry works to increase efficiency across the care continuum, organizations are examining processes and looking for opportunities to make improvements. For most providers, that means focusing mainly on internal processes and trying to find ways to get things running as efficiently as possible. But in addition to assessing and adjusting things internally, healthcare providers can make a lot of progress by turning their attention outward. In fact, those that make efficiency a shared goal with the other providers in their community can drive measurable healthcare improvements and cost reductions.
In order to identify opportunities for internal improvements organizations typically do the following:
Conduct a financial assessment. This involves closely examining budgets to learn where money and resources are being spent. A financial assessment is helpful for identifying waste and finding where there is potential for greater efficiency.
Map clinical processes. This exercise involves breaking down clinical routines and looking at each and every step in various processes. Mapping clinical processes is a good way to uncover efforts that do not deliver value to patients and that should be tweaked or eliminated.
Ask staff to share ideas for improving efficiency. Staff members should be asked to submit recommendations for improving efficiency on a regular basis. The people who carry out processes typically have a great deal of insight to share about what is working and what isn't, why breakdowns happen, and what needs to be changed in order for things to work better.
Survey patients to get feedback. Patients should be surveyed and asked to submit feedback about their care experiences. Input from patients is valuable for evaluating performance and identifying positives and negatives about care delivery and efficiency. Often when patients are very satisfied it signals that processes and procedures are running seamlessly as intended. But when patients are dissatisfied, the opposite is true.
Healthcare organizations can apply some of these same concepts and take additional actions as they work to improve efficiency across shared external processes. This is important because a lot of breakdowns in both quality and efficiency happen when multiple providers are involved and care is not coordinated as well as it could be.
Some of the many areas to target when trying to improve efficiency across multiple providers include:
Transfer procedures (forms and paperwork)
Referrals (communicating the reason behind referrals)
Orders for tests and screenings (to avoid duplication)
Medication reconciliation
EHR system interoperability
The point is, there is a lot of communication and collaboration that needs to happen between providers, because caring for patients has become a shared job. The more confusion there is about roles and responsibilities, the more efficiency suffers. So, instead of focusing only on what is happening internally, healthcare organizations need to work closely with the other providers in their community and decide how to most efficiently coordinate care.