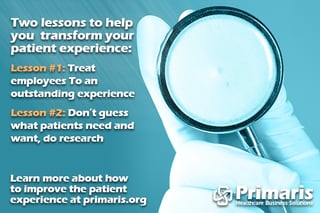 Designing and delivering a positive patient experience takes work. There are some healthcare organizations that do an amazing job of identifying patient needs and making sure care addresses those needs in a way that exceeds patient expectations. They are the ones getting the patient experience right. Here are two lessons learned from proven patient experience leaders.
Lesson #1: Treat Employees To An Outstanding Experience
Sharp HealthCare is well known in the healthcare industry for its innovative approach to patient experience improvement. One of the many notable things that Sharp has done in this area is work to improve its employee experience in tandem with patient experience. This strategy has paid off big time. Sharp has successfully built an outstanding patient experience by focusing on the organization's internal culture. Sharp made a resolution to be not only the best place to receive care, but also to be the best place to work and to practice medicine. It implemented cultural changes – at every level of the organization – that engaged employees and got them to buy into Sharp's mission. One of Sharp's most notable employee engagement efforts is an inspiring annual all-staff event that brings together nearly all of the organization's 22,000+ employees. This event, described here as "part state-of-the-union, part revival, part vaudeville, part pep rally" is a great example of how focusing on employees can lead to more satisfied patients. By completely committing to improving the organization's culture, Sharp has been able to get employees on board and drive behaviors that have improved the patient experience.
Lesson #2: Don't Guess What Patients Need and Want, Do Research
The Cleveland Clinic is another organization that has proven it knows how to deliver an amazing patient experience. But it hasn't always been so successful in this area. While The Clinic was always known for medical excellence, it used to have a reputation for delivering a poor patient experience. So The Cleveland Clinic embarked on a mission to change that. A lot of different things went into The Clinic's patient experience transformation. For one thing, it hired a Chief Experience Officer and created an Office of Patient Experience. This got the ball rolling, but there was a lot more work to be done. One of the main problems The Clinic kept running into was that it really didn't know enough about what patients needed and wanted outside of clinical care. So it conducted research, commissioned studies, surveyed patients, and did everything possible to learn about patient needs. This research uncovered some surprising facts. The Clinic learned that the superficial efforts it had been making to improve the patient experience – like bettering food options and redesigning hospital gowns – were not aligned with patient needs. So it made changes (based on its research) to better address patient needs. Now, in patient experience terms, The Clinic ranks in the top 8% of hospitals according to CMS rankings.
Overhauling entire programs to create a better patient experience (like The Cleveland Clinic did) can seem really overwhelming. Opting to make smaller, incremental changes makes implementing patient experience improvements more manageable. And learning from other organizations that have already been through improvement processes can provide ideas on where to begin.
Who do you think delivers a world-class patient experience?

The steps in our free patient experience checklist will help you understand how to design and deliver a better patient experience.