We talk a lot about the importance of care coordination and operational efficiency on this blog—and with good reason. I'd like to share a presentation that has stuck in my mind since we attended the NCDR16 conference last month.
Dr. Thomas Lee's* Keynote Presentation highlighted the extreme importance of care coordination. He began by discussing the major drivers of change: medical progress, an aging population and the global economy. With continual change comes challenges for providers and patients. There are too many people involved with too much to do, and no one has all the appropriate information or full accountability, thus resulting in chaos and gaps in quality, safety and efficiency. He pointed out that "patients aren't just afraid of diseases, but also lack of coordination."
Dr. Lee provided some examples based on his experiences. During a typical heart failure admission, a patient will interact with 93 people, and during a coronary artery bypass grafting admission, a patient may interact with more than 150 individuals. Can you see where this may lead to miscommunications and confusion? This is why organizations must make care coordination a priority.
Lee introduced a 3-tier outcomes measures hierarchy that can be used to help attain positive patient outcomes in the long-term with better care coordination.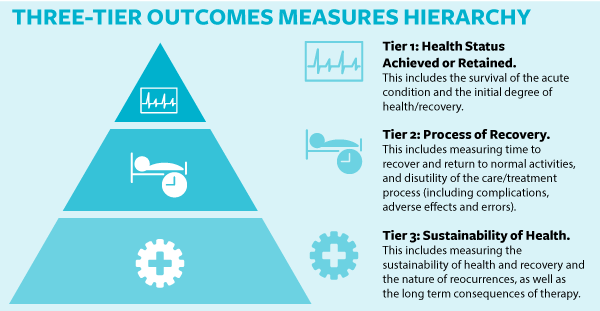 Strategy vs. Operational Efficiency
Dr. Lee stressed the importance of not only collecting data for operational efficiency, but also on the patient experience and the impact on their quality of life. Operational efficiency is and will always be extremely critical, but the new healthcare marketplace demands choices and the development of a real strategies. Two questions that healthcare organization should be asking themselves are:
What we trying to do for whom?
How are we going to be different?
The Real Differentiator: Care Coordination
As we evolve into value-based healthcare, we are seeing more and more that effective teamwork is crucial in the care of patients. All members of the healthcare team must have clear roles, understand their responsibilities and be reliable. There must be a new found focus on meeting a patient's needs. Furthermore, healthcare teams must have an open flow of information and provide a higher level of data transparency. Most importantly, all must work together towards continual quality improvement.
Are you ready to be different? From assigning accountability to developing agreements to maximizing electronic health records, start improving coordination of care today with our free checklist.
*Dr. Thomas Lee is the Chief Medical Officer (CMO) of Press Ganey.Click here for his full bio.