What is the one thing long-term care facilities can do right now to improve care coordination?
We get this question a lot at Primaris – so we know that care coordination is something that is on the radar for a lot of long-term care organizations. We also know that many people ask this question because they have a million pressing issues to handle and they want a quick fix for care coordination.
There are a couple of sure-fire ways long-term care facilities can improve coordination of care. Our top recommendations are to develop systematic care coordination communication processes, bring together a broad network of people and involve them in care planning, and make changes that improve access to timely patient data. Of course, you can't snap your fingers and make any of these things happen. There really is no silver bullet long-term care can use when it comes to care coordination. However, there are some really good tools and pre-designed programs that, when adopted in entirety, can be used to build a strong care coordination program. One of those tools is INTERACT.
I've heard of INTERACT. What is it and how can it help me?
INTERACT is a quality improvement program for long-term care organizations. It is designed to provide nursing homes with guidance and all sorts of helpful tools that can be used to prevent avoidable hospitalizations and improve care transitions when acute care is needed.
These are the different components that make up INTERACT: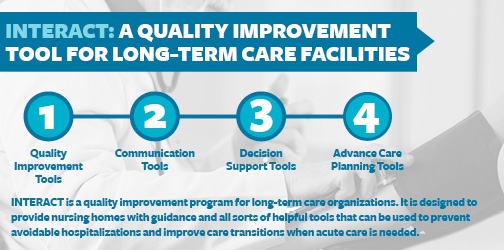 Quality Improvement Tools
The QI tools give you a way to look at instances where your residents have been transferred to acute care and then draw conclusions and learn from those occurrences. The idea is that by doing this you can learn the best ways to handle resident needs and changes in conditions in the future.
Communication Tools
These are tools to help you drive improved communication internally and also with hospitals.
Decision Support Tools
Decision support tools are very specific resources that offer guidance on how you can tell what signs and symptoms are urgent and warrant notification of primary care doctors. Basically they help you make decisions about how to appropriately care for residents.
Advance Care Planning Tools
These are tools to guide discussions and document care plans at admission and at other points.
One of the things that makes INTERACT so useful is that it lays out exact processes for you. You don't have to find time to develop your own systematic processes, you can just follow the INTERACT program and use its corresponding resources. Just by using the resources you can eliminate gaps in care and improve collaboration with hospitals and primary care physicians.
Primaris offers education and training on how to establish an INTERACT program. So if you have further questions about INTERACT or want to look into it for your facility, you can ping us for more info.