If your organization is committed to designing and delivering a superior patient experience there are several things you can do. "Lessons From Healthcare's Patient Experience Top-Performers" provides inspirations for improving your organization's patient experience, but you also need to look within your own organization.

Ask, "What do we want to be known for?" Look at your mission statement or core values and consider what it is that you want to fuel your efforts.

Sharp Healthcare

adopted seven pillars of excellence that serve as the foundation for its patient experience work: quality, safety, service, people, finance, growth and community. Identify your organization's priorities so you have something to direct your efforts. What would your pillars of success represent?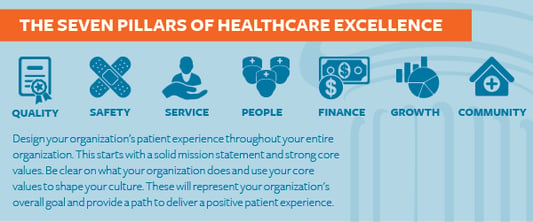 Once you have your driving principles in mind, evaluate your current patient experience efforts. Look at patient surveys – really dive into them and closely analyze what patients are telling you. Compare the real experiences patients report via survey results with the goals you identified and the ideal patient experience you are trying to create. Look for shortcomings and areas where you need to improve.
When The Cleveland Clinic was first working to improve its patient experience, it widely publicized its very dismal CMS patient satisfaction survey results. A major obstacle they had to overcome is they really didn't know what their patients needed and wanted outside of clinical care. Let's go back to what we stated before, inspiration from outside organizations is helpful, but you also need to look within your own organization. This was the case with the Cleveland Clinic. Through the tough survey results and extensive reseach, they were able to discover opportunities to align with patient needs. This was a huge eye-opener and helped employees realize the importance of improving the patient experience.
Read "3 Common Patient Experience Problems Solved" to see Primaris' solutions to three different problems healthcare providers face when it comes to influencing patients' stories.
Another way to evaluate your current efforts is to bring in an impartial outside party to perform a patient experience observation exercise. A patient experience observation involves an unbiased observer assessing different aspects of patient care and reporting on where adjustments are needed and where opportunities for improvement exist. This is extremely helpful for identifying problems that are unrecognizable to those closest to the problem. Outside observers can offer a perspective that is very close to what a first-time patient experiences.
Your research, observation, and analysis should leave you with a pretty clear idea of what patients want and need from your organization and what they feel they are receiving and what they are not. If you haven't been able to identify where you need to make improvements, you either need to continue to do research or call in an outside consultant for help.
When you have identified where adjustments are needed you are ready to make plans for incorporating patient experience improvements into clinical care routines. There is one important thing to understand as you create experience-driven processes and define patient experience in terms of actual job duties: You must address patient experience responsibilities for ALL employees within your organization. This means physicians and janitors, nurses and executives, billing personnel and marketing team members.
Every single person in your organization impacts patient experience. Therefore, the actions of all employees need to contribute in a positive way to the patient experience. So work to develop new processes and make improvements across all parts of your organization.
The bottom line is -- design your organization's patient experience throughout your entire organization. This starts with a solid mission statement and strong core values. Be clear on what your organization does and use your core values to shape your culture. These will represent your organization's overall goal and provide a path to deliver a positive patient experience.
Contact us to learn more about how we can help you improve patient experiences and reduce costs.