In our recent blog, "Diabetes Empowerment Education Program (DEEP) Teaches Self-Care", we provided an overview of CMS's program dedicated to reaching Medicare beneficiaries with diabetes or pre-diabetes across rural America. Now we'd like to dig a little deeper and share with you how your community can get involved.
Where to Start
Get out there and get to know your community. What is the population and demographics of your area, specifically those in senior housing? Are there locations, such as senior centers, libraries, conference centers, where you can provide these classes? Is your community offering any other public health services or activities?
Establish the Need
Speak with your local healthcare agencies, providers and suppliers to see what needs and issues they have with their diabetic clients. Have there been any other diabetic educational services offered in the area?
Make the Connection
Ask your local healthcare agencies, providers and suppliers to promote the importance of DEEP to the community, especially those with diabetes and their families. Distribute the DEEP flyers locally.
Show the Value
The benefits of DEEP in your community are endless. The program is fun and interactive, and covers a variety of topics that you may not even realize are associated with diabetes and the management of it. The best part is it doesn't cost a thing.
Do yo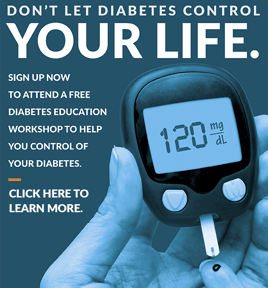 u or someone you know have diabetes? Use our Diabetes Data Checklist to keep track of important medical information.
Here is one communities' journey through the DEEP program, including the multiple ways value was created for both the community and participants along the way:
Community Value
One physician from a local town of 100 residents was excited to bring DEEP to their community. However, he was concerned with low attendance due to lack of transportation to the sessions.
The Peer Educator went to the local convenience store and asked the attendant who would have the most information about seniors in the town. She was told the beautician whose shop was a block away. She too confirmed the transportation issue. But she did have some other ideas that she shared. She provided contact and location information for two senior housing facilities where she was aware of several residents with diabetes. She also provided contact information for the three local churches because not only could they distribute flyers, but they often provide local transportation. All three of the churches made announcements in their services and handed out flyers.
Next, the Peer Educator was able to speak with the property manager at one of the senior housing facilities. It just so happens that the property manager herself has diabetes and knew of seven other residents who do as well. She was extremely excited to bring DEEP to their facility and offered their conference room for the sessions. Ah, a class is born!
Now, the fun part begins. Flyers were placed at local businesses and organizations all over the community . One owner of a local restaurant was extra eager to display the flyers on their counter because then when they spoke to customers with diabetes about the workshops, they could also discuss healthier diet options. Look how one program is creating change in an entire environment.
Participant Value
The impact these workshops have on poeple, as an individual and as a community, is heartwarming. It is truly a team effort, especially in small communitites where participants know each other and some each other's habits. This became evident when one individual was continually mentioned as "needing this class badly because he won't listen to us". According to the group, his diabetes was uncontrolled and he was refusing to see his physician for worsening symptoms. His short walk was causing labored breathing, his legs were extremely swollen and he didn't wear shoes because they no longer fit. They all encouraged him to attend the workshops. Throughout the six weeks of sessions, he began taking his diuretics as prescribed, then wearing thick-soled sandals and eventually graduated with smaller legs! He even added he would consider following up with his physician.
Another example of true "community" efforts occured during the nutrition session when one participant experienced a dramatic drop in blood sugar. Everyone jumped in and offered their support. One participant fed her sugar cubes one at a time, another found lemonade and assisted her taking sips, two assisted her to a sofa, one left to get her sister who lived close and yet another got her a sandwich from her apartment, all while the Peer Educator providing information to the 911 dispatcher. When paramedics arrived she was feeling much better and her blood sugar was close to normal. She declined ambulance transport and left with her sister. At graduation, she was grateful because she feels better educated on why and how to take care of herself, and she knows the right questions to ask her doctor. She said the workshop handouts are even beneficial to her sister.
This community truly lives the essence of DEEP. The experiences and education obtained from the workshops will stay with them always. Comments from participants on the posct survey included their involvement with these experiences had the most impact on why it's so important to manage your diabetes and be knowledgable about your health.
Get Your Community Involved Today
Want to know more about how to bring this program to your community? Interested in becoming a Peer Educator? Here are a few you can get connected:
Email Primaris Quality Improvement Specialist Trent DeVreugd.
Call 1-800-735-6776, option 6.
Visit CLAIM site.