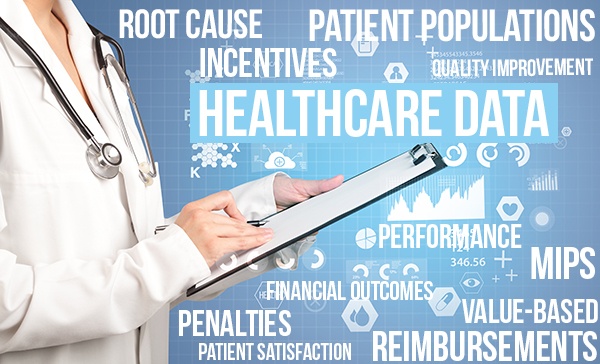 Healthcare teams that only use data for mandatory reporting are missing opportunities to capitalize on valuable insights and make data-driven improvements. In addition to working with data to satisfy reporting requirements, your healthcare team can use data to:
Establish baselines – With baseline data you can identify a clear starting point and measure progress as you work to make improvements.
Perform root cause analysis – By using clues from within data to determine what is causing a problem, you can work to eliminate that cause, and subsequently the problem.
Understand patient populations – When you leverage data from electronic medical records it is possible to see trends and commonalities among patient groups, and then begin developing population health management strategies.
Learn about processes – Data can help you identify what is working and not working across various clinical and organizational processes. For example, data can help you understand what parts of the patient check-in process are efficient or inefficient, how to better support patients during the hospital discharge process, or where errors are occurring at times of patient transfers.
Measure patient satisfaction – Survey data can be used to measure whether your patients are satisfied or dissatisfied with their healthcare experiences.
Evaluate performance against other providers and industry standards – Competitive data helps you see where you stand in relation to others in your field. By leveraging competitive data, you can see where you are ahead and where you are falling behind.
Track financial outcomes – Within your financial data are insights that you can use to develop strategies to minimize bad debt and maximize revenue.
Design quality improvement projects - Data is a vital component of quality improvement, you can leverage it to guide all of your quality improvement initiatives.
As valuable as data is for providers and patients alike, healthcare facilities often fail to take full advantage of it for quality improvement. The problem is due mostly to timeliness. While recording data is relatively simple, abstracting it and reducing it to essential characteristics that can be easily understood is an arduous process, as is analyzing and applying the data. Teams often struggle to stay on top of data management.


Unfortunately, because of time constraints and competing priorities teams frequently allow chart data to pile up, neglecting records for months or even years at a time.

Primaris helps teams unlock data for quality improvement.

As a data abstraction and quality improvement firm with more than 30 years of experience, Primaris understands the challenges of managing data, and also the value of timely data. We use our TIME improvement model to help teams leverage healthcare data for more than just reporting. The TIME improvment model consists of:
Thresholds for Success (T) - We begin by identifying thresholds, or minimum performance standards that organizations must meet to improve care quality and obtain financial incentives.
Improvement Strategies (I) - We use the data we gathered to develop clear, actionable strategies to reach those thresholds.
Measures for Attaining Goals (M) - We identify measures that can tell us whether performance thresholds are being met.
Execution & Evaluation (E) - We help you execute improvement initiatives, and we evaluate how effective they are at improving outcomes and lowering costs.
If your healthcare team needs help accessing critical data and unlocking insights for quality improvement, contact us to learn about the benefits of partnering with us.