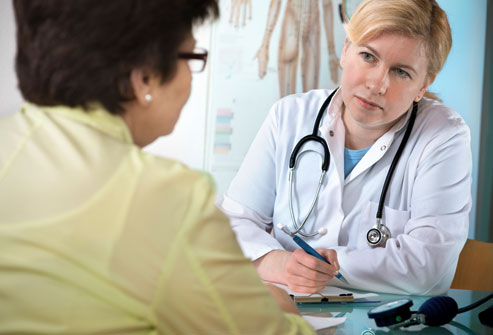 Are you often frustrated after advising your patients to make changes—only to find they don't follow through?
Your iron-clad, medically-proven advice might go something like this: "Use portion control and exercise to stave off cardiovascular disease." "Cut down on alcohol because it's affecting blood sugar levels."
Despite your best efforts and stern admonishment – or even pleading - patients often will continue to overeat, remain sedentary, smoke or shrug off gradual lifestyle adjustments to self-manage diabetes or myriad other conditions.
If this sounds familiar, you may want to consider using motivational interviewing (MI) with your patients. This patient-centered, goal-directed approach is an evidence-based practice. By allowing the patient to describe the cost-benefits of the behavior and using a collaborative technique—rather than patient education model—you can build on the patient's intrinsic motivation while the patient personally develops the plan for change.
Evidence-based, proven technique
Motivational interviewing was developed by clinical psychologists in the early 1980s and derived from treatment experiences with problem drinkers. However, MI's effectiveness in substance abuse treatment parallels in its success in healthcare settings. The non-confrontational technique is particularly effective for patients with multiple chronic conditions and for patients identified as "resistant" or "difficult to engage." The technique is practical and cross-cutting not only in a variety of settings, but also across cultures.
Some conditions in which MI has been useful in changing behaviors include, but are not limited to: diabetes, cardiovascular disease, alcohol use/misuse, tobacco use, and obesity.
The most important thread of the MI approach is allowing patients to express their ambivalence and desire to change in their own words.
How to move patients toward change
In MI, there are five stages of change. For successful behavior changes, the patient must be ready. If you find resistance, it's likely you believed the patient's readiness was greater than reality. Assessing readiness for change results in reduced provider frustration and a more positive patient experience. However, providers can assist in moving the patient along the stages of change if the patient is not ready for action. Use of a readiness ruler can be particularly helpful in gauging a patient's readiness.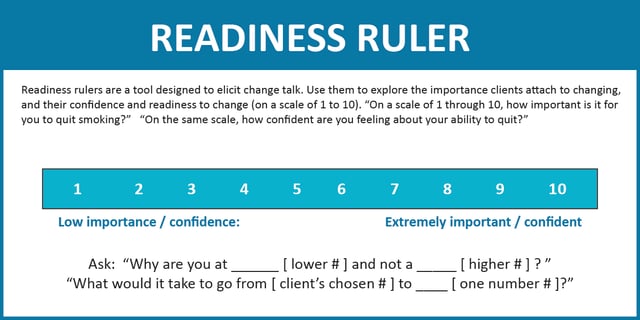 Motivational interviewing (MI) checklist
Do:
Express empathy: develop rapport for a strong relationship between the provider and patient.
"Roll with Resistance:" resistance is natural and it's important to support the patient in navigating through his or her own hurdles, rather than approaching with force. There is an analogy commonly used to describe this in MI, which is to dance with the patient instead of wrestling.
Use open-ended questions. Some examples: "Tell me more about your drinking habits this past week?" "What makes you believe it's time to make a change?" Use questions that start with who, what, when or how, and avoid "why" questions which assume judgment and can put your patients on the defensive.
Problem-solve together, rather than for the patient.
Practice non-verbal listening skills. These may include making eye contact; facing the patient and perhaps inclining forward to demonstrate engagement; avoiding crossed arms or multi-tasking; using timely and appropriate facial expressions; or nodding when your patient is speaking to illustrate you are present and actively listening.
Don't:
Argue
Lecture
Persuade
Pry
Shame
Additional MI tools include summarizing the patient's statements to reflect understanding and direction and using "change talk" to elicit self-motivational statements and confidence in changing behaviors. MI also builds upon the patient's reluctance and ambivalence by using this to link their current behavior to where they want to be.
When developing solutions, the provider tries to elicit several options to emphasize patient choice, and finally provides information and education before asking the patient to reflect understanding.
According to research, formal training in motivational interviewing as well as ongoing supervision and follow-up are important for optimal results.
Working with physicians to improve care
Effective MI skills can improve patient outcomes, increase therapeutic effectiveness of medication, enhance medication compliance, decrease provider and staff burnout, and lower frustration.
Through our work as a subcontractor for TMF Quality Innovation Network-Quality Improvement Organization (QIN-QIO), Primaris works with Missouri primary care physician offices to improve in a variety of areas. Of these, improving alcohol screening rates as well as tobacco cessation and blood pressure measures in Merit-based Incentive Payment System (MIPS) are just a few projects in which MI has been a topic of interest.
If interested in seeking more resources on MI, please visit the SAMHSA-HRSA Center for Integrated Health Solutions website. And if you're interested in seeking formal MI for your organization, the Motivational Interviewing Network of Trainers (MINT) website has a link for locating trainers in your area.