Improving efficiency across every facet of healthcare is a priority for providers industrywide. There are many ways hospitals and health systems can do their part to push toward this goal. One of those ways is to reduce readmissions. After all, it takes fewer resources and less money to treat patients once rather than twice. CMS has targeted readmissions and put pressure on all healthcare providers to do more to prevent them whenever possible. Below are five things hospitals and health systems can do to keep readmissions and related costs to a minimum.
1. Ensure discharge orders are coherent.
There are multiple people (healthcare providers, family caregivers, and the actual patient) responsible for maintaining a person's health after he or she has been discharged from the hospital. Because of this, clearly communicating discharge orders to all involved parties is essential. That means effective discharge planning processes need to be in place. Also, systems and procedures are needed that effectively share orders across the hospital staff and with the patient. The more planning and discussion that goes into the discharge process, the better prepared patients and their families are to follow orders and achieve good outcomes.
2. Do more to care for high-risk patients.
Certain patients are more susceptible to readmission because of the type of condition they have, the severity, or their unique health history. Health conditions like congestive heart failure, septicemia, pneumonia, COPD, renal failure, and acute myocardial infarction are known to be tied to higher rates of readmission. Hospitals can help prevent readmissions by putting processes in place to identify patients that are at a greater risk of being readmitted, and taking extra precautions with these individuals. This may involve monitoring high-risk patients more closely or providing them extra resources to ensure their transition home goes smoothly.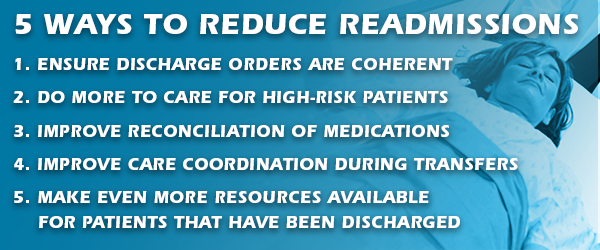 3. Improve reconciliation of medications.
Medication problems – like patients taking the wrong dose or mixing medications that should not be taken together – can also lead to complications and readmissions. Good medication reconciliation can prevent harm caused by medication errors or misuse. This is an area where hospitals need to proactively work with patients.
4. Improve care coordination during transfers.
Care transitions are known to be the point when errors and complications are most likely to occur. If patient's needs are not met as they transition out of the hospital, the risk of readmission is high. Therefore, hospitals and health systems must continuously work to evaluate and improve transfer procedures alongside skilled nursing facilities and home health providers.
5. Make even more resources available for patients that have been discharged.
Hospitals and health systems need to understand that they are responsible for the health of patients even after those individuals have left their facility. Providing access to resources beyond the time the patient is in the hospital is a must. This could mean a hospital needs to send a nurse to visit a patient within a few days of them returning home. Or it might involve care managers checking in with patients to identify and respond to complications. The point is, adding resources is a solution for reducing costs related to readmissions.
Tens of billions of healthcare dollars are spent on hospital readmissions each year in the U.S. There is a lot of money at stake. To increase cost efficiency and reduce waste, hospitals and health systems can take steps like the ones outlined above to reduce readmissions.