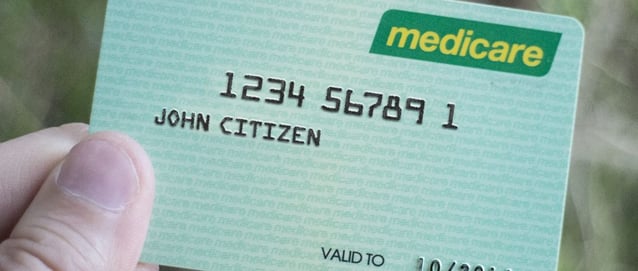 Amid the head-spinning changes in the way the hospitals and providers get paid for Medicare, it might be easy to overlook another important change coming in less than eight months: New Medicare cards with new numbers for all 58 million Medicare beneficiaries.
The first cards will be mailed in April 2018 in order to meet the Congressional deadline of replacing all Medicare cards by April 2019. The new cards are part of a fraud prevention initiative to help combat identity theft "and to better safeguard taxpayer dollars," according to a Centers for Medicare and Medicaid Services (CMS) news release.
Getting the word out.
CMS has begun an outreach campaign to let Medicare beneficiaries – and providers – know that the new cards are on the way, replacing Social Security numbers with a Medicare Beneficiary Identifier (MBI).
"We're taking this step to protect our seniors from fraudulent use of Social Security numbers which can lead to identity theft and illegal use of Medicare benefits," said CMS Administrator Seema Verma. "We want to be sure that Medicare beneficiaries and healthcare providers know about these changes well in advance and have the information they need to make a seamless transition."
Providers and beneficiaries will both be able to use secure look up tools that will support quick access to MBIs when they need them. There will also be a 21-month transition period where providers will be able to use either the MBI or the HICN further easing the transition. Issuance of the new MBI will not change the benefits a Medicare beneficiary receives.
Another provision of MACRA.
Providers are already well-aware and becoming more familiar with the legislation that spurred the acceleration of the new Medicare cards. The provision was contained in the Medicare Access and CHIP Reauthorization Act of 2015 (MACRA).
CMS has a website dedicated to the Social Security Removal Initiative (SSNRI) where providers can find the latest information and sign-up for newsletters. CMS is also planning regular calls as a way to share updates and answer provider questions before and after new cards are mailed beginning in April 2018.
Four changes for providers to make.
Meanwhile, both CMS and AARP representatives say providers will have to change their systems to do the following:
Accept the new Medicare number (Medicare Beneficiary Identifier or MBI). Use the MBI format specifications if you currently have edits on the current Health Insurance Claim Number (HICN).
Identify your patients who qualify for Medicare under the Railroad Retirement Board (RRB). You will no longer be able to distinguish RRB patients by the number on the new Medicare card. You will be able to identify them by the RRB logo on their card, and we will return a message on the eligibility transaction response for a RRB patient. The message will say, "Railroad Retirement Medicare Beneficiary" in 271 Loop 2110C, Segment MSG. If you use the number only to identify your RRB patients beginning in April 2018, you must identify them differently to send Medicare claims to the RRB Specialty Medicare Administrative Contractor, Palmetto GBA.
Update your practice management system's patient numbers to automatically accept the new Medicare number or MBI from the remittance advice (835) transaction. Beginning in October 2018, through the transition period, CMS will return your patient's MBI on every electronic remittance advice for claims you submit with a valid and active HICN. It will be in the same place you currently get the "changed HICN": 835 Loop 2100, Segment NM1 (Corrected Patient/Insured Name), Field NM109 (Identification Code).
If you use vendors to bill Medicare, contact them if they haven't already shared their new Medicare card system changes with you; they can also tell you how they will pass the new Medicare number to you. Visit the New Medicare Card Provider webpage for the latest information.
AARP also has helpful information about ways both providers and beneficiaries can prepare for the new cards, which are intended to combat identity theft. Scams relating to the new card are already surfacing. Some Medicare recipients report getting calls from scamsters who tell them that they must pay for the new card and then ask them for their checking account and Medicare card numbers. Don't give out either number.
And here's a quick quiz from AARP to test your Medicare knowledge. Good luck!