MACRA is changing the way healthcare providers are reimbursed for care. If you are a physician, physician assistant, nurse practitioner, clinical nurse specialist or certified registered nurse anesthetist that bills Medicare $30,000 or more annually – or you care for at least 100 Medicare patients – MACRA applies to you.
And that means you need to understand compliance guidelines and be prepared to submit data in 2017 so you can avoid getting slapped with a negative payment adjustment. There is a lot to learn about MACRA and the Quality Payment Program, and not much time before the program begins. Below are some useful resources that will help you get up to speed quickly.
1. The Quality Payment Program Website
CMS created an entire website dedicated to the Quality Payment Program (QPP). The site's homepage provides a concise overview of the QPP, who it applies to, how it changes Medicare payments and more. The site also delves into a detailed explanation of the program and how reimbursements will be calculated initially and over time. There are multiple calculator features that help clinicians easily identify reporting measures that are meaningful to their practice.
2. The Official Rule on the Quality Payment Program
This is the long-form final ruling on MACRA and the QPP. It tells you everything you could possibly need to know about MACRA, and then some. Reader beware: the final rule consists of over 2,000 pages of reading.
3. Fact Sheet on the Final MACRA Ruling
This is a condensed version of the final rule. It offers a good summary of MACRA and provides a look at the QPP's guidelines and impact on Medicare payments.
4. The AMA Payment Model Evaluator
The American Medical Association put together this useful (and free) calculator to help providers understand their payment options under MACRA. After entering practice-specific details, physicians can get a personalized assessment to help them understand what they need to do to maximize their success while participating in the QPP.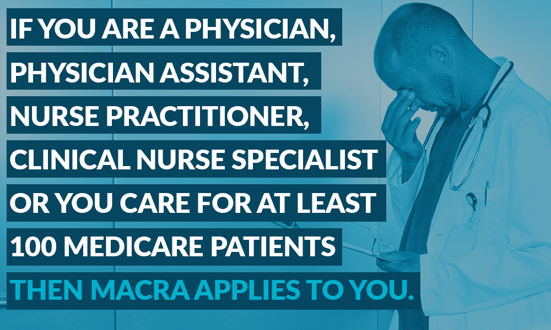 Not only is MACRA repealing the flawed Medicare sustainable growth rate (SGR) formula, it is also consolidating three legacy quality reporting programs and creating a new (and hopefully simpler) two-track framework for calculating payments. All of these changes mean that providers will need to put a lot of effort into making workflow and practice management adjustments. In particular, medical teams will be required to dedicate attention to areas like EHR use, population health management, and operational efficiency if they want to be able to earn positive payment adjustments. Below is a small selection of available Primaris resources that offer guidance on these topics:
Population health management: Taking Control of Your Entire Patient Community
Population health management: Your Checklist for Success
5 Steps for Financial Success in a Value-Based Payment Environment
Transforming Operational Efficiency: What to do now
For additional Primaris materials related to quality improvement check out our resource library.