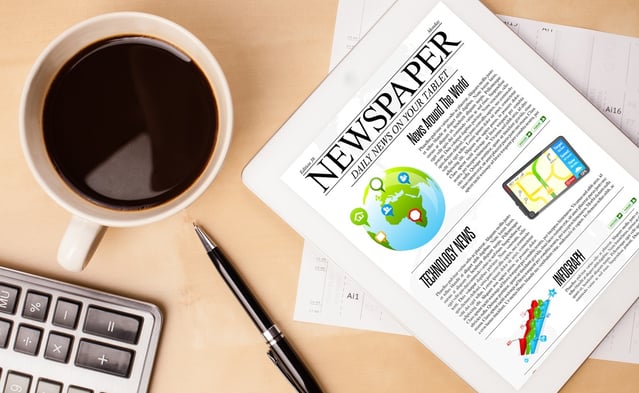 In case you missed these, Quality Today scoured the healthcare news landscape and blogosphere to present you with a weekly roundup of news and information.
Healthcare costs increasing at unsustainable pace.
Medical costs are poised to continue their relatively flat growth in 2019, but researchers say the steady trend is unsustainable for consumers. Full story.
Alex Kacik, Modern Healthcare
CMS reverses ban on paying for CGM-smartphone connection.
People in Medicare who wanted a continuous glucose monitor (CGM) to manage their diabetes will now be allowed to link it with their smartphone, allowing users to share data with caregivers and family members. Full report.
Mary Caffrey, The American Journal of Managed Care
Is your workplace making you fat?
The dilemma is all too familiar: It's Monday morning, you walk into your office and see that someone has left a big box of donuts in the break room. Then, your co-worker tells you there will be cake later for yet another birthday celebration. Read more.
Serena Gordon, HealthDay Reporter
---
Quality Talk Podcast - Aging Into Medicare: Next Steps?
---
Additional EHR system features, interoperability top 2018 trends.
There are five key areas that EHR vendors should focus on for the rest of the year to stay competitive, including focusing on specific EHR system features, the continued push for interoperability, and patient engagement needs, according to a recent market report. Full story.
Elizabeth Snell, EHR Intelligence
Health systems pitch in to protect rural providers.
More than 40% of the country's rural hospitals that have been operating in the red as they try to manage care for a declining population that is often older, sicker and poorer than their urban counterparts. Read the complete story.
Alex Kacik, Modern Healthcare
AMA: Med students, residents receive insufficient EHR training.
Medical students and residents are not effectively using electronic health records because they continue to receive insufficient training on the systems as part of their formal professional education. Full story.
Greg Slabodkin, HealthData Management
Decline in hospital-acquired conditions save 8k lives, $2.9 billion.
Data released June 5 by the Agency for Healthcare Research and Quality (AHRQ) show continued progress in improving patient safety, a signal that initiatives led by the Centers for Medicare & Medicaid Services (CMS) are helping to make care safer. National efforts to reduce hospital-acquired conditions, such as adverse drug events and injuries from falls, helped prevent an estimated 8,000 deaths and save $2.9 billion between 2014 and 2016, according to the report. Full press release.
---
Quality Talk Podcast - The High Cost of Medical Error
---
Agency for Healthcare Research and Quality
How to talk about suicide in a way that's actually helpful.
Deaths by suicide, like the ones of designer Kate Spade and chef Anthony Bourdain this week, are tragic reminders that mental health issues don't discriminate based on success. Mental health problems can hide in plain sight ― sometimes to loved ones or even to the person who suffers from them. Read more.
Lindsay Holmes, senior wellness editor, Huffpost
4 key areas to watch in healthcare interoperability.
Technology is ever-evolving, and with that evolution comes an increasing amount of data. Healthcare interoperability is a way for organizations to utilize information and ensure that patients can receive proper care, even if they move from one provider to the next. Full story.
Elizabeth Snell, EHR Intelligence
MGMA asks CMS to enforce HIPAA rules on health insurers.
Many health insurers are not complying with the HIPAA transaction rules, and the Centers for Medicare and Medicaid Services needs to become more aggressive in its enforcement, according to the Medical Group Management Association, which represents more than 40,000 medical group practice leaders. Full story.
Joseph Goedert, HealthData Management
7 surveys that say a lot about U.S. healthcare.
How will artificial intelligence change medical practice? Who's responsible for America's opioid epidemic? Should doctors receive drug-company money? Full story.
Robert Pearl, MD, Forbes.
---
Related - Value-Based Care Transforms Patients Into Consumers
---
Hospital star ratings release delayed by CMS.
The CMS will not update the hospital quality star ratings on Hospital Compare next month as it continues to evaluate concerns from stakeholders on methodology changes, the agency told hospitals on Tuesday. Full story.
Maria Castellucci, Modern Healthcare
Clinicians need more training on suicide warning signs.
New data that shows suicide is on the rise across the country and a pair of high-profile celebrity deaths by suicide are putting renewed attention on an issue that can have a profound impact on healthcare professionals. Read more.
Paige Minemyer, associate editor, FierceHealthcare
How America got hooked on a deadly drug.
Purdue Pharma left almost nothing to chance in its whirlwind marketing of its new painkiller OxyContin. Full story.
Fred Schulte, Kaiser Health News
Growing number of primary care docs embrace concierge medicine.
Why are more physicians turning to concierge medicine than ever before? Read more.
Jeff Lagasse, associate editor, Healthcare Finance
INTERACTIVE
From WebMD, our rapid-fire, must-read picks.
______
If you've got feedback or your own recommended reading and blog-following suggestions, please leave us a comment or email jjackson@primaris.org.