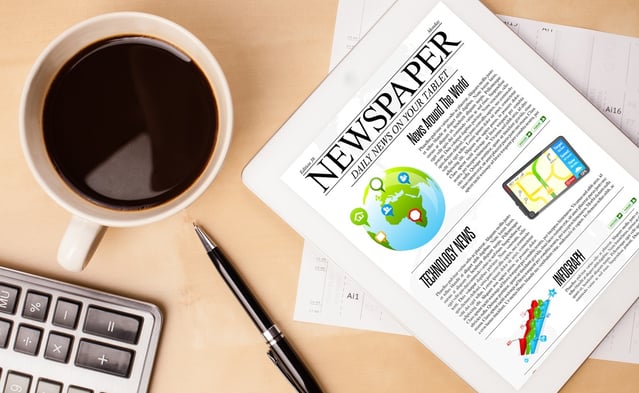 In case you missed these, Quality Today scoured the healthcare news landscape and blogosphere to present you with a weekly roundup of news and information.
Hospitals roll out online price estimators, CMS presses for transparency.
Leaders at El Camino Hospital, located in California's Silicon Valley, wanted to make it easy for tech-savvy consumers to shop online for personalized, reliable price estimates for its medical services. Full story.
Harris Meyer, Modern Healthcare
Amazon makes $1B splash in health care, buys PillPack.
Amazon.com Inc. is buying its way into the heart of the U.S. health-care system, instantly shaking up a prescription-drug industry already in the midst of a broader transformation. Read or listen.
Robert Langreth and Zachary Tracer, Bloomberg
Health systems show greater emphasis on consumer-focused strategies.
Hospitals and health systems are doing more to try to meet the rapidly changing expectations of today's healthcare consumers, but there's still a lot of room for improvement, according to a new report by Kaufman Hall. Full story.
Jeff Lagasse, associate editor, Healthcare Finance
224 hospital benchmarks | 2018.
Hospitals across the nation compete in a number of ways, including on quality of care and price, and many use benchmarking to determine the top priorities for improvement. The continuous benchmarking process allows hospital executives to see how their organizations stack up against regional competitors as well as national leaders. Story and list.
Ayla Ellison and Jessica Kim Cohen, Becker's Hospital Review
CMS considers Stark Law changes to support value-based care, APMs
CMS is seeking input on how to potentially modify the physician self-referral law, otherwise known as the Stark Law, to encourage value-based reimbursement and care delivery. Full story.
Jacqueline LaPointe, editor, RevCycle Intelligence
AHA 'strongly opposes' interoperability as Medicare requirement.
The American Hospital Association (AHA) has come out against a policy floated by the Centers for Medicare & Medicaid Services (CMS) to make interoperability a requirement to bill Medicare and Medicaid. Full story.
Evan Sweeney, executive editor, FierceHealthcare
Fragmented markets inflate healthcare spending.
A new study reveals that the number of competitors in a given market may be less important than the type of competitors when analyzing healthcare costs. Read more.
Alex Kacik, Modern Healthcare
The next wave of hospital consolidation to be shaped by disruptive innovation.
Mergers and acquisitions saw a record-breaking first quarter this year, posting numbers not seen in a decade, and that wave of consolidation doesn't appear to be slowing down anytime soon. Full story.
Jeff Lagasse, associate editor, Healthcare Finance
Mount Sinai finds improved outcomes, patient experience in 'hospital at home' model.
A "hospital at home" model can improve outcomes while also making for a better patient experience, according to a new study. Read more.
Paige Minemyer, editor, FierceHealthcare
The physician reluctance to seek mental health treatment.
The recent suicides of an NYU resident and a medical student highlight the growing mental health problem among physicians and physicians-in-training in this country. This crisis is certainly not exclusive to physicians, as evidenced by the suicides of designer Kate Spade and television personality Anthony Bourdain. However, suicide among physicians is of particular concern. Read more.
Sara Reader, MD, MPH, emergency physician, for MedPage Today's KevinMD.com
How addressing social determinants of health cuts healthcare costs.
Population health management and value-based reimbursement success hinge on reducing healthcare costs not only when a patient is in the exam room, but also when they are beyond the walls of the practice or hospital. Therefore, understanding where a patient lives, their income, education level, job status, and other social determinants of health (SDOH) is critical as providers aim to reduce healthcare costs and unnecessary utilization. Full story.
Jacqueline LaPointe, editor, RevCycle Intelligence
Medicare chronic disease management vital to cut healthcare costs.
Effective chronic disease management is imperative in a healthcare industry in which costs are only going up. However, without adequate patient engagement and care coordination strategies, efforts to mitigate chronic care issues will not be successful, leaving the market to handle ever-rising healthcare costs. Read more.
Sara Heath, Patient Engagement HIT
The biggest health care fix: a relentless focus on primary care.
There are so many theories out there about what we should or shouldn't be doing with our complex and fragmented health care system. We are facing a perfect storm of factors: an aging population, a huge increase in chronic disease, new and expensive treatments, and rising expectations of what care we should be receiving. All of this is sending costs spiraling out of control. As a nation, we spend almost 3.5 trillion dollars on health care. To put that into perspective, that is more than the total GDP of every country in the world apart from China and Japan! Germany, next on the list, has an entire GDP of 3.4 trillion dollars. Read the blog.
Suneel Dhand, MD, for MedPage Today's KevinMD.com
INTERACTIVE
From WebMD, our rapid-fire, must-read picks.
______
If you've got feedback or your own recommended reading and blog-following suggestions, please leave us a comment or email jjackson@primaris.org.