If you participate in one of the National Cardiovascular Data Registry (NCDR) registries, you may have heard of the Data Quality Report, otherwise known as the "DQR." Even if you've heard of it, do you know what it is and what it's telling you? Let's dig into what you need to know about the Data Quality Report (DQR).
Data may be abstracted directly into the NCDR online tool, or data may be entered into a 3rd party vendor tool. With either method, the data must then be submitted into the NCDR via the DQR process. Each time data is submitted to the DQR, feedback information is given to help determine the quality of the submission. Is the data logical? Is the data complete? Every element has a completeness threshold that must be met to pass the DQR. The complete list of element thresholds can be found in the DQR Companion Guide on the NCDR website under Resources (log in required).
After data submission, the DQR will be scored with either green, yellow, or red res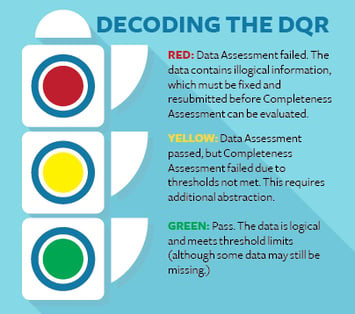 ults. You can guess which each of the scores means.
Green – Data Assessment passed. The data is logical and meets threshold limits, even if some data may still be missing.


Yellow – Data Assessment passed, but Completeness Assessment failed due to thresholds not met. This requires additional abstraction.


Red – Data Assessment failed. The data contains illogical information, which must be fixed and resubmitted before Completeness Assessment can be evaluated.
As referenced above, the DQR is composed of two reports--the Data Assessment and the Completeness Assessment. These two reports will help you determine what you need to correct. Let's take a deeper look at these two reports:
Data Assessment
Data Assessment provides errors with the data, such as inconsistent dates/times, which MUST be fixed. If the DQR is red, this is where you'll want to start!
This report also provides data outliers for data outside of the "usual range" such as "post-procedure length of stay exceeds 10 days." These are informational and will not prevent you from passing the DQR. However, they should be reviewed to ensure data accuracy.
Completeness Assessment
This report lists fields that were left blank. This can be viewed by "failed" status to see which elements are not passing data thresholds, or "all" missing elements. While a green status means the data thresholds were met, this report should still be reviewed to determine if an element was truly missing from the chart, or if it was incidentally left blank during abstraction.
The main thing to remember is--submit early and submit often! Early in a quarter it's not uncommon to have a yellow status due to valid missing information from a small number of cases. As more data is entered for the quarter it will be easier to reach a green status. After making any corrections, resubmit to the DQR and review the results again. Always ensure a green status is reached prior to the data deadline for the quarter. The Quarterly Outcomes Report contains the most recent rolling four quarters of data, so if errors are found in prior quarters, they may be corrected and the DQR resubmitted for those past quarters.
Are you drowning in data? Primaris provides NCDR abstraction services which include DQR submission and data review.
Email us today at engage@primaris.org to discuss how outsourced NCDR abstraction can benefit your facility.