There are new options for hospitals when it comes to improving quality of care for patients with Acute Myocardial Infarction (AMI). In 2007, the American Heart Association (AHA) launched Mission: Lifeline, a system of care that coordinates EMS, referring hospitals (non-PCI) and receiving hospital (PCI-capable) using best practices for patients with both STEMI and non-STEMI heart attacks and provides recognition for this care.
Since 2011, the American College of Cardiology's (ACC) National Cardiovascular Data Registry (NCDR) ACTION Registry-Get With The Guidelines (GWTG) registry served as the data source for Mission: Lifeline. However, the NCDR recently announced that the registry was rebranded as the ACTION Registry.
During this same time, the AHA relaunched the GWTG-CAD registry. This registry served as the AHA's AMI registry until 2010 when partnering with the ACC/NCDR to provide a single registry for AMI patients. We wanted to find out what this meant for the more than 900 hospitals participating in Mission: Lifeline and recently attended the AHA's webinar "GWTG-CAD and Mission:Lifeline--The Past and Future are Now" to find out.
Here are our key takeaways:
Hospitals with need to enroll directly with the AHA to participate in Mission: Lifeline and obtain recognition.
Hospitals must use GWTG-CAD to collect their data for Mission: Lifeline

.

GWTG-CAD Mission: Lifeline

data will no longer be able to be directly harvested from the ACTION Registry.
Participation in GWTG-CAD is free in 2017. The fee for 2018 will be announced in June. The AHA says for budgeting purposes hospital can anticipate the fee not to exceed the historical pricing for the ACTION Registry-GWTG.
Will I have to enter data into both the ACTION Registry and GWTG-CAD if I want to participate in both registries?
Not necessarily. GWTG supports a CSV Uploader that allows you to upload data into the registry via a CSV file. This tool will be available in June 2017 and data can be uploaded retrospectively. ACTION Registry data can be exported via the data extract function for those that use the NCDR tool for abstraction. Data can be harvested from vendor tools as well. We will have to see how much this data overlaps, if there are differing specifications for similar elements, how seamless the process will be, and if additional data collection will be needed. This is a good time for hospitals to evaluate what measures are most useful for quality improvement in their systems of care and determine if a single registry could meet all their needs.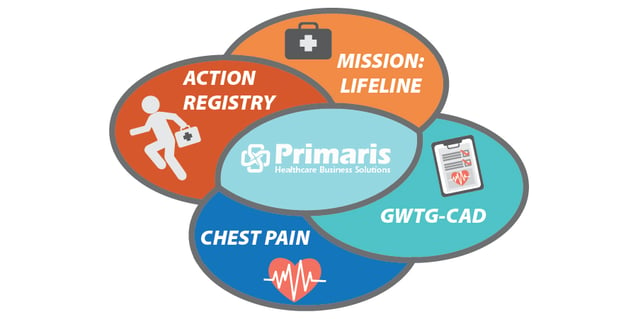 What are some advantages to GWTG-CAD?
GWTG-CAD offers streamlined data collection for Mission: Lifeline six System of Care measures, and six Hospital Process of Care measures will be available in the initial launch. The AHA will offer additional data elements and measures for hospitals who want to track more comprehensive measures in fall 2017. Optional fields will also be available for tracking internal data.
GWTG-CAD offers real-time, customizable reporting and national, state and regional benchmarking.
GWTG-CAD offers opportunities for obtaining recognition.
GWTG-CAD offers a consultation with AHA Quality Improvement staff.
What are some advantages to ACTION Registry?
ACTION Registry offers interoperability with CathPCI Registry.
ACTION Registry meets state reporting requirements for states using it as their data source.
ACTION Registry uses existing certified software vendors for data collection and reporting, which may already have EMR data integration.
ACTION Registry

offers

access to interactive dashboard (which includes comparison tools), NCDR's quality advisors, and numerous ACC quality improvement programs, campaigns and toolkits.
ACTION Registry

offers

monthly Registry Site Manager support calls.
ACTION Registry offers a hospital profile on ACC's website Cardiosmart.org, which helps patients seek out hospitals for care.
Download our CathPCI Key Data Elements Pocket Card here.
I am Chest Pain Center accredited and use the ACTION Registry for my NSTEMI/STEMI patients. How does this affect me?
The AHA and ACC continue to partner on Cardiac Accreditation. A goal of their collaboration is to reduce the burden of data submission. Therefore, hospitals will be able to choose either the ACTION Registry or GWTG-CAD for their Chest Pain Accreditation AMI data. The AHA states it will fully support the 23 required measures by winter of 2017 with additional data elements added.
Whether you choose to utilize ACTION Registry, GWTG-CAD, or both, Primaris can assist you with your data abstraction needs, freeing up your staff to participate in quality improvement projects and the many improvement initiatives offered by both the AHA and ACC. Stay tuned for our upcoming blog that highlights the new AHA/ACC Accreditation collaboration and helps you navigate the maze of data collection options.
Get connected.
Questions or feedback regarding these registries can be submitted to:
ACTION Registry: ncdr@acc.org
GWTG-CAD and Mission: Lifeline: missionlifeline@heart.org