By Timothy Perkins and Jacque Gabriel
As we adjusted the focus on our Quality binoculars to search for our old friend GPRO – the Group Practice Reporting Option – we spied a trail of crumbled and discarded acronyms.
The trail led to a new quality reporting mechanism: CMS Web Interface.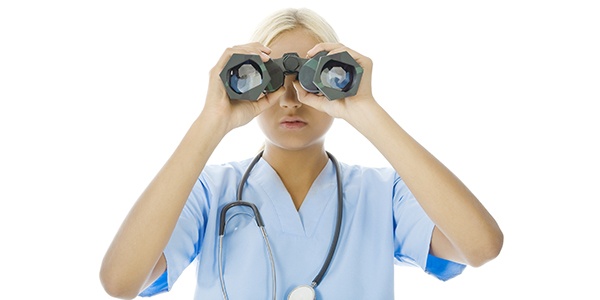 When the Centers for Medicare and Medicaid Services (CMS) combined and aimed to streamline the Physician Quality Reporting System (PQRS), Value-Based Modifier (VBM) and Meaningful Use (MU), the result was the Merit-based Incentive Payment System (MIPS).
GPRO was the PQRS method for physician groups of 25 or more. CMS Web Interface is now one of six data submission mechanisms under MIPS.
Make sense? It's important to know that GPRO and PQRS were casualties – in name only – under the Medicare Access and CHIP Reauthorization Act (MACRA), which led to the Quality Payment Program (QPP). And QPP allows two tracks for reporting: MIPS and Alternative Payment Models (APMs).
In search of a new acronym.
When we caught our breath from the jumble of letters, it became clear that the new quality reporting option – CMS Web Interface – stands out as an oddity because it does not have its own acronym.
GPRO, though now dead – technically still alive, but more on that later – sort of rolled off the tongue. Only two syllables - and we liked the sound of "PRO."
What's the best choice for a CMS Web Interface acronym? One of our top choices: C-WI, as in "SeeWhy." ("Son of GPRO" was a close second).
Let's see if C-WI catches on.
Now let's see the difference between GPRO and C-WI. In a word: Nothing.
Both are identical. Both require submission of 248 ranks per measure. Both must be registered with CMS by June 30 of the previous year.
It's still a group reporting option; lower-case now because what we called GPRO is dead as an official CMS program and acronym.
The four legs of MIPS.
With our GPRO search over, we took one more look through the Primaris Quality binoculars and discovered four legs to MIPS: Quality (there it is!), Improvement Activities, Advancing Care Information (that's where MU now nests, though no longer called MU), and Cost.
Looking at the two QPP reporting methods – APM and MIPS -, you are an Advanced Alternative Payment Model (AAPM) if you are currently a Track 2, Track 3 or AIM (CMMI Initiative) Accountable Care Organization (ACO). By choosing the AAPM, you earn extra points by participating in an innovative payment model. You are exempt from MIPS and earn performance-based payment adjustments to your Medicare payment. However, if you are not an AAPM, then you qualify for MIPS, unless your volume is too small.
Track 1 ACOs must use CMS Web Interface to submit quality data.
Trying to keep it simple.
To simplify and clarify further – with "simplification" subject to various levels of interpretation and/or frustration - if you are participating in an APM, you are still subject to MIPS, but you submit your APM quality reporting. What submission method must you use? You guessed it. CMS Web Interface. Simple, right?
Let's review what we know about participating in the group reporting Quality portion of MIPS:
You must be in a group of 25 or more eligible clinicians, must bill more than $30,000 in Part B allowable charges to Medicare per year and provide care for more than 100 Medicare patients per year. You must also be a physician, physician assistant, nurse practitioner, clinical nurse specialist, or certificate registered nurse anesthetist.
For MIPS, you can pick your pace.
Don't participate: receive a 4% negative payment adjustment.
Submit at least one measure: avoid a negative adjustment.
Report at least 90 days of data: you may earn a neutral or positive payment adjustment.
Submit a full year of data for 2017: you may earn a positive adjustment.
For more information, navigate to the CMS page: https://qpp.cms.gov/
Do you still feel lost on your quality journey and cannot find your way (even with your Quality binoculars)? Primaris is well-versed in Quality Reporting, and can help you navigate your way through the maze of data and reporting.