In January of 2015, the U.S. Department of Health & Human Services (HHS) announced aggressive goals to push Medicare—and really the entire healthcare system—further toward value-based care. HHS's goals of moving from volume to value include tying 50 percent of fee-for-service Medicare payments to value by the end of 2018. If you haven't already began, it's time to build your value-based care team.
What is value-based care?
At its core, value-based care is about maximizing value for patients: that is, achieving the best outcomes at the lowest cost. Traditional fee-for-service (FFS) models determined payment based quantity and type of services provided, whereas value-based care models will determine payment based on the quality of care and patients' outcomes.
The goal of value-based care is to provide reimbursements and incentives for value rather than volume and reward providers for efficiency and effectiveness. In short, value-based care will enhance the triple aim of healthcare—improving the quality and satisfaction of care, improving population health management and reducing the costs of health care. Those that can deliver on these three areas are able to earn financial incentives and avoid penalties.
Value-based care is intended to improve the healthcare system by paying providers for what works, unlocking healthcare data, and finding new ways to coordinate and integrate care to improve quality.
Centers for Medicare and Medicaid Services (CMS) is dedicated to creating programs, such as the Medicare Access and CHIP Reauthorization Act of 2015 (MACRA) and the Physician Value-Based Modifier (PVBM) program, which will help drive the shift to value-based care. Eventually, they aim to connect all Medicare payments to value-based care models. Click here to learn more.
Read "5 Steps for Financial Success in a Value-Based Payment Environment" to help your team get started now and stay ahead of the game.
Is your roster ready?
There are many obstacles to overcome while transitioning from the traditional FFS to value-based reimbursement. For healthcare providers, there are both opportunities and challenges tied to value-based care. Having the correct team in place will help your organization to streamline the process, which in turn will improve your patient care quality, increase efficiency, and grow revenue.

To help you build a value-based care team, we've outlined the ultimate line-up to help you identify new players worth considering as additions to support this important transition.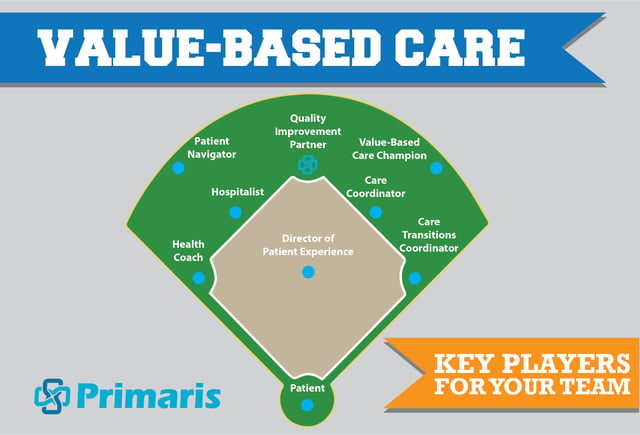 Patient Navigator: A navigator's primary role is to help patients traverse an often-confusing medical system, while removing obstacles in accessing or receiving treatment. Navigators make appointments for patients, explain their medical conditions and treatment options.
Health Coach: A coach's role is to move patients toward healthy lifestyles by emphasizing wellness and prevention strategies that help enhance the personal accountability of chronically ill patients, while motivating them to better manage their diseases.
Hospitalist: Hospitalist are physicians whose primary professional focus is the general medical care of hospitalized patients. Their activities include patient care, teaching, research, and leadership related to Hospital Medicine.
Director of Patient Experience: Patient experience directors are charged with improving patient satisfaction scores and the overall patient experience. They develop and administer policies and procedures that provide a high level of quality care and services for patients and their families. They also act as a liaison between patients and other healthcare service providers.
Care Coordinator: Care coordinators are clinical healthcare professionals that play an important role in improving the overall health of a population of patients. They develop and coordinate patient care plans, and manage patients who are not able to do for themselves. This level of management goes beyond the scope of a health coach.
Care Transitions Coordinator: Care transitions coordinators play an important role in helping hospitals to lower their preventable readmissions rates. They serve as a clinical liaison between healthcare providers to ensure continuity of care for patients transitioning from a facility to home care or hospice environment.
Value-Based Care Champion: A champion's primary role is to serve in a leadership capacity promotion and implementing changes that benefit the health systems and its patients. Changes may involve improvements to procedures or a new product or service, such as an electronic medical records system. Typically, the position also involves serving in secondary roles.
Quality Improvement Partner: In response to the transition to value-based healthcare, many providers are turning to advisory services, consultancies and solutions vendors to help them analyze their performance and leverage their data to improve quality, patient safety, and clinical and financial outcomes.
Getting the right team in place is essential for setting in motion the strategies most critical to value-based care. Furthermore, having all team members engaged and involved is critical since every role has their part that impacts treatment, costs and quality.
Contact us today to learn how the Primaris team can help your team transition to this new era in health care.