Failure to communicate is failing our patients. New research shows poor communication has a body count of more than 1,700 and costs us BILLIONS.
Communication problems were a contributing factor in 30 percent of 23,000 medical malpractice claims filed between 2009 and 2013, according to the report, published by research/analysis firm CRICO Strategies.
That percentage includes 1,744 deaths and $1.7 billion in hospital costs. In addition, 37 percent of all high-severity injury cases involved communication failures.
Common breakdowns include inadequate communication about a patient's condition, poor documentation and an indifferent response to a patient's complaint.
Direct communication occurs between the hospital physician and primary care physician occurs in less than 1 in 5 hospitalizations. Yet research has shown that a follow-up visit to a PCP is critical to transitional care management and means better patient outcomes.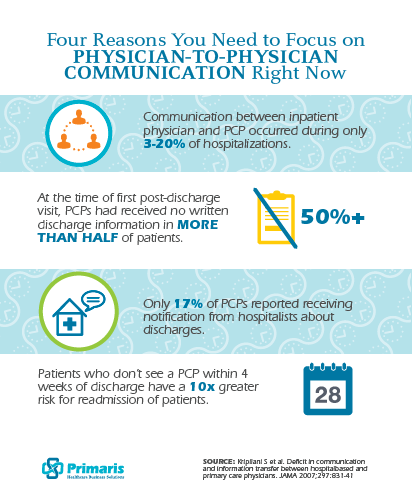 Effective communication is the foundation of any healthcare team. Communication errors can have grave consequences, as evidenced by the latest report. Ready to take the step toward effective physician communication? Check out Five Steps to Improve Hospital and Physician Communication.
If you're ready to create a more efficient care coordination program, download Transforming Care Coordination: What to Do Now, a care coordination checklist.