Here is a tip for long-term care facilities and hospitals that want to make communicating transfer information more efficient: For every transfer, communicate three must-know patient details upfront. More specifically, reach out and share the three most important things about a patient that the receiving side needs to know.
If you make this a shared habit between you and the hospitals or nursing homes in your area, you can save time and ensure that the facility the patient is transferrin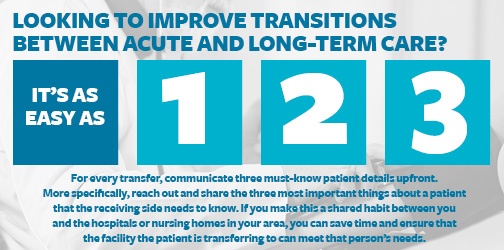 g to can meet that person's needs.
Why is this tip helpful? For one thing, it brings to the surface key pieces of info that would otherwise be buried in pages and pages of patient data, lab results, and health history information.
Everyone today seems to have a checklist of required patient data they need for admission. With so much requested patient data, lab results, and more, there is an information overload problem happening right from the start.
Yes, detailed health history info and other data is necessary to clearly understand a patient's needs and how best to care for them. But the more information that is shared, the harder it is to determine what is most vital. Highlighting a few pieces of key info is a good way to communicate the most pertinent data first.
Imagine a hospital has a patient that is transitioning to a nursing home but has very specific needs. For example, the patient needs a Medicaid bed and the patient needs to be isolated because he has a C. difficile infection. In this scenario it makes the most sense for the hospital to pick up the phone and communicate these critical needs upfront rather than to fax an entire medical record along with transfer After all, the nursing home may not even be able to accommodate the patient, and that could quickly and easily be determined.
With the adoption of electronic health records we have gotten to a point where the most basic patient data is sometimes swallowed up by all the smaller details. You can help make care transitions easier on everyone by bringing the must-know info to the forefront.