Parents have been taking heat for years for excessive screen time and spending too much time on electronics, not enough time interacting with kids. Doctors are now receiving that same scrutiny around patient care.
A December Wall-Street Journal article asked: "More doctors are bring laptops in the exam room; medical progress or is something lost?"
Today, a majority of hospitals and physician offices have Electronic Health Records (EHRs) systems in place for tracking medical and demographic information. One question that many people have is whether having this technology hurts or helps the patient experience. There are arguments that high-tech healthcare is cold and impersonal – not exactly the qualities that come to mind when you think of a positive patient experience.
In fact, a JAMA Internal Medicine study showed that patients gave lower grades for quality of care they received over several months to doctors who used computers more often. And researched at Northwestern University discovered that doctors using electronic health records (EHRs) spent about a third of patient visits looking at a screen.
While electronic records have been used by some health-care networks for more than a decade, their use has rapidly increased in recent years due to federal incentive funding. The percentage of physicians using them rose to 78% in 2013 from 29% in 2006, according to a National Ambulatory Medical Care Survey.
Keeping patient records electronically is intended to promote greater coordination among multiple doctors and reduce medical errors. It has also been shown to increase operational efficiency when used right. While technology has changed the dynamics between providers and patients and created new communication challenges, it has also created opportunities to improve the patient experience.
Technology can play a huge role in improving the patient experience. Look at your organization's use of EHRs to see if you are using data to orchestrate meaningful and personal healthcare experiences.
Most hospitals and physicians use EHRs to track medical and demographic information. But few organizations take advantage of features like "notes" that store patient details beyond just medical and demographic information.
Optimizing use of EHRs gives providers a way to collect personal patient details that are useful for facilitating positive patient experiences. For example, remembering and responding to the fact that a patient has been through a traumatic experience, lives alone, is shy, or has transportation issues could make all the difference in a patient's healthcare experience.
Guidelines, nicknamed POISED, aim to help doctors communicate effectively with patients while recording their data electronically.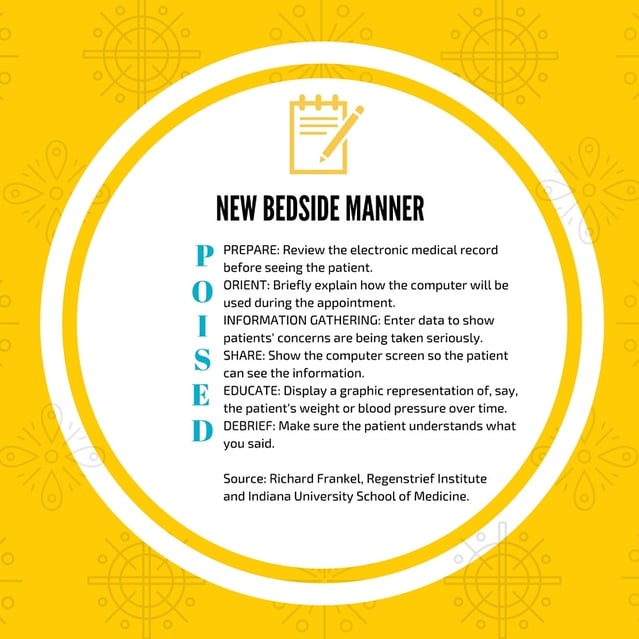 If your organization is not taking full advantage of EHRs, make changes to better use technology. Evaluating how technology is impacting your organization's patient experience is one of our five tips for creating a better overall experience for your patients. Ready for the other four? Download "A Patient Approach: A Checklist for Building a Better Patient Experience."