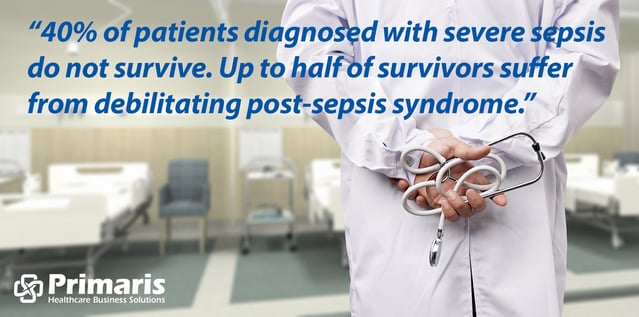 Sepsis is an emergency, plain and simple. The condition claims a life every two minutes and it adds $24 billion to our annual healthcare costs and kills an estimated 258,000 Americans each year. Sepsis is also a challenging measure for abstractors.
Before getting into some of the nuts and bolts of abstraction challenges – it should be noted that sepsis can't be abstracted electronically, so the task is very time-consuming – a quick core measures and sepsis recap is in order. Key facts that summarize core measures are:
Core measures are national standards of care and treatment processes for common conditions.
These processes are proven to reduce complications and lead to better patient outcomes.
Core measure compliance shows how often a hospital provides each recommended treatment for certain medical conditions. (Source: Johns Hopkins Medicine.)
Sepsis was added as a core measure in October 2015 as a way for the Centers for Medicare and Medicaid Services, other payers, and health care professionals and health systems to put a focus on prevention and treatment. The number of deaths due to sepsis in the U.S. is equivalent to two patients dying of sepsis every minute, more than from prostate cancer, breast cancer, and AID combined.
How much do you know about Sepsis? Download our Q&A to learn the basics.
What causes sepsis?
Sepsis is not an infection, but what occurs after an infection has caused inflammation throughout the body that can trigger a cascade of events that quickly spirals towards a lethal trajectory – tissue damage, organ failure, and worse. In 40 to 50 percent of all cases, sepsis is fatal. Up to half of survivors suffer from post-sepsis syndrome, which can be a life-long, debilitating condition. Early detection and treatment is the surest hope for survival and limiting disability for survivors.
The core measures connection becomes even clearer with this set of facts: At nearly $24 billion in 2013, sepsis was responsible for 6.2 percent of all hospital costs across the country. A study revealed that the mean expense per stay associated with those hospitalizations was over $18,000, making hospitalizations from sepsis 70 percent more expensive than the average stay. At a cost of roughly $65 million a day, 63 percent of those cases were paid by Medicare/Medicaid, 28 percent were covered by private insurance, and 5 percent of cases were uninsured hospitalizations.
Sepsis is the No. 1 cause of hospital deaths in the country. Some 1.6 million cases are reported in the U.S. each year.
Data abstractors piece the info together.
The immense challenge sepsis presents for core measure data abstractors is multi-layered, because sepsis is such a complex condition and the core measure abstraction rules are very specific. (Primaris Quality Data Services managers report that up to 90 percent of data abstraction questions they receive are connected to sepsis.)
For starters, "septic shock" is the most severe level of the condition and is diagnosed when blood pressure drops to dangerous levels. But if a physician writes "sepsis" and "shock" – separately – on a patient's record, that won't pass CMS muster for septic shock. That requires the abstractor to track down additional information or seek clarification from other records to determine if the patient meets the definition of septic shock.
That's just one example of how time-intensive sepsis abstraction can be. Other measures are certainly far less cumbersome, such as immunization data. In most cases, a patient's record will show a checked box or simply "yes" or "no" in response to immunization standards. Those charts can be abstracted rather quickly. On the other hand, it's not uncommon for sepsis data abstraction to require one hour or longer – for one patient chart. If the condition first presented in the hospital, rather than as a transfer from another facility, and the case advances all the way to septic shock, the abstraction will be especially time-consuming. Each sepsis abstraction begins at the beginning of a patient's medical journey. Piecing that together even if multiple facilities aren't involved can be daunting.
The risks of DIY data abstraction.
The time commitment is a major factor in healthcare teams' decisions to outsource data abstraction work, whether the abstraction is for core measures – and sepsis, specifically – or registries that collect quality data and reports. Patient care and other vital operational tasks could suffer at the cost of healthcare facilities and staff taking on such time-consuming abstraction in-house.
One Primaris quality data services team performs more than 90 sepsis data abstractions each month.
LEARN MORE ABOUT SEPSIS AND THE SEPSIS ALLIANCE HERE
Sepsis is an individual's reaction to the body's overwhelming and life-threatening response to infection. It is not contagious. The final stages of sepsis in terms of severity are "severe sepsis" and "septic shock." For "severe sepsis," the patient must have a documented infection, two or more SIRS criteria, and evidence of organ dysfunction. For "septic shock," the patient will have severe sepsis plus low pressure that doesn't respond to IV fluids or a lactate equal to or greater than 4 mmol/L.
Abstractors must be fully trained on those terms, abstraction standards, and the required documentation needed for an accurate sepsis diagnosis and successful data abstraction.
Sepsis felled Muhammad Ali.
Many of the symptoms of sepsis, such as fever and difficulty breathing, are the same as in other conditions, making sepsis hard to diagnose in its early stages. Doctors treat sepsis with antibiotics as soon as possible. Many patients receive oxygen and intravenous (IV) fluids to maintain blood flow and oxygen to organs. Other types of treatment, such as assisting breathing with a machine or kidney dialysis, may be necessary. Sometimes surgery is required to remove tissue damaged by the infection.
A 2016 study white paper by the Institute for Healthcare Policy and Innovation at the University of Michigan noted many of horrors of sepsis, including one of the most notable deaths: former heavyweight boxing champion Muhammad Ali died from the condition in June 2016.
"Despite these grave consequences," the white paper states, "fewer than half of Americans know what the word 'sepsis' means."
NEXT IN OUR CORE MEASURES SERIES
Healthcare workers are already wearing multiple hats as professionals, which increase the challenges and risks of taking a do-it-yourself approach to core measure abstraction and reporting.

Quality improvement season never ends, meaning core measures abstraction is year-round. How do you handle that ocean of data? Are you drowning?