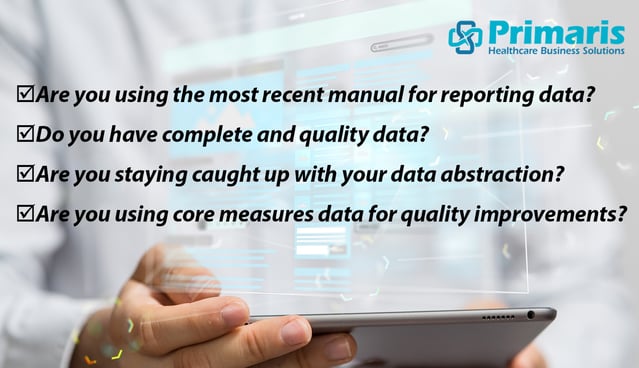 Quality improvement season never ends, meaning core measures abstraction is year-round. How do you handle your ocean of data? Are you drowning in data?
Dedicating resources and proper training is crucial to taming the chaos of a highly complex, time-consuming process that significantly impacts an organization's financial and competitive standing. Core measures abstraction is an example of how not all data is easily located in the electronic health record (EHR), because many measures – sepsis, for instance – require knowledge and training to dig through charts, clinician notes, the EHR, and more.
DIY data abstraction can be risky.
One of the most crucial takeaways from the data abstraction picture is realizing that when providers are using their own staff for the task, it's even more difficult to extract and implement actionable insights. What barriers do you encounter to keep data from shifting your focus from quality healthcare?
However, we've heard time and time again that many facilities spend so much time and effort on data abstraction and quality reporting that they don't utilize the data to make improvements. The do-it-yourself approach is risky, because many times results in inaccurate and therefore, unusable, data.
Real questions from real abstractors: Download our Core Measures FAQ
One way to determine if it might be time to outsource your abstraction is to ask three simple questions: Are you ...
Drowning in data and juggling too many records with too little staff time?
Struggling to keep up with quality measure specifications and reporting guidelines?
Trying to free up clinical staff for proactive quality improvement initiatives?
What's your workflow?
One team of Primaris Quality Data Services abstractors helped a hospital client develop an Excel spreadsheet that was used during sepsis abstraction. The spreadsheet helped identify trends of the way some physicians were entering notes and orders that sometimes were not clear or explanatory. The staff used the process to implement on-the-go and immediate workflow improvement.
"Quality Talk" podcast - Core Measures Intersects With Quality Reporting
There are other ways to shore up and improve workflows to increase charting and abstracting accuracy. One path to make this happen is to start small. Start with a team of users - the staff who use the system on a day-to-day basis, from every role (front desk staff, billing, nursing, mid-level providers, physicians, specialty physicians, and managers), to help make your reporting happen more smoothly. This education process will assist the team in understanding each role, how the data they enter is consumed and interacts with data entered by others, and how they can eliminate barriers that each department may be creating for others.
Getting a small team together first can provide "buy-in" from the rest of the staff, and help them understand why data is important, and how it can help your organization, patients and staff. The only thing worse than having no patient data is having, and relying on, incomplete or poor quality data. Solid, quality patient information can be the difference between a successful or poor outcome, for both the patient's health and the hospital's bottom line.