Chronic diseases, by definition are long-lasting. They are lingering conditions. Even so, they are frequently treated with episodic care rather than long-term disease management. Considering how prevalent chronic diseases have become in the United States and how much our nation spends treating people with chronic diseases, it makes sense to look at patient care and ask what more we could be doing to manage and prevent chronic conditions. Here is a brief look at Episodic vs. Holistic healthcare and the impact of each on chronic diseases.
Traditional Episodic Care
If you think about it, the purpose of traditional care is to eliminate symptoms when an ailment arises. If a patient is suffering from a sore throat and tests positive for strep, they usually can be given a prescription and cured of their painful condition, end of story. But that isn't the case with chronic diseases - you can treat a patient's symptoms but the disease isn't gone. The symptoms will return and require treatment again and again unless you take action to address the cause and prevent them from returning.
A Preventative Approach
Because the Preventative Care Model is a more holistic approach that aims to minimize symptom flare-ups in the first place, it aligns well with chronic disease treatment. It works to address the cause of disease and continuously combat symptoms so patients can avoid emergency situations, ER visits, unnecessary medical expenses, pain and suffering. This approach to care treats chronic diseases for what they really are: ongoing conditions that need continuous management.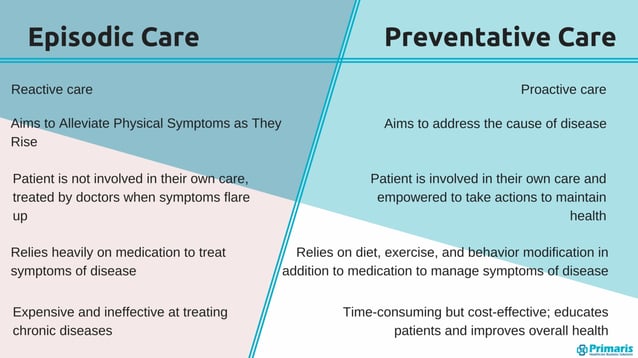 When you compare episodic and preventative care models it is easy to see that preventative care is a better match for chronic disease patients.
There are actions you can take that will help your practice or healthcare system sharpen its focus on preventative care and better management of patients with existing chronic conditions. To learn more, check out this Chronic Disease Management Resource: A Checklist for Moving to the Preventative Care Model.