We were recently honored by the Centers for Medicare & Medicaid Services (CMS) for our efforts to help transform the quality of care in the nation's hospitals as part of the Partnership for Patients initiative. We're proud to be a partner of this program focused on making hospital care safer, more reliable, and less costly.
Launched in 2011, the Partnership for Patients identified nine hospital-acquired conditions that were responsible for more than 50 percent of all needless injuries and deaths. These conditions included adverse drug events, catheter-associated urinary-tract infections, pressure ulcers and surgical-site infections, among others.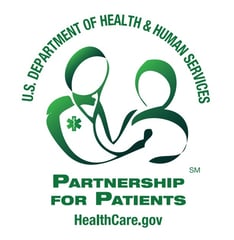 Primaris and other members of CMS' Quality Improvement Organization program, implemented solutions to improve the level of care for patients as they transitioned from one healthcare setting to another. This required collaboration and communication among patients, healthcare providers, hospitals, nursing homes, patient caregivers and social service providers to share both their positive and negative experiences.
As part of CMS' Partnership for Patients initiative, Primaris helped to save the lives of more than 87,000 patients and reduce patient harm incidents by 2.1 million, while hospitals saw a savings of nearly $20 billion as a result of the Quality Improvement Group's efforts. According to CMS, the Partnership for Patients initiative had two goals: decrease preventable hospital-acquired conditions by 40 percent and decrease hospital readmissions by 20 percent.
The success of the initiative also led to CMS employees Dr. Paul McGann, CMS chief medical officer, Jean Moody-Williams, Deputy Director of CMS's Center for Clinical Standards and Quality, and Dennis Wagner, director of CMS' Center for Clinical Standards and Quality's Quality Improvement Group, being honored as the 2016 Federal Employees of the Year and winners of the Samuel J. Heyman Service to America Medal (the SAMMIE's) from the Partnership for Public Service.
A non-profit, non-partisan organization, the Partnership for Public Service aims to make government more effective and honors federal employees who by break down barriers, overcome huge challenges and produce results.
You can view the full press release here.