Medical care often does not meet their patient's needs for effective clinical management, psychological support, and information. The primary reason for this may be the mismatch between their needs and care delivery systems largely designed for acute illness. Evidence of effective system changes that improve chronic care is mounting. Quality management and abstraction can help a medical care provider become the efficient provider they need to be.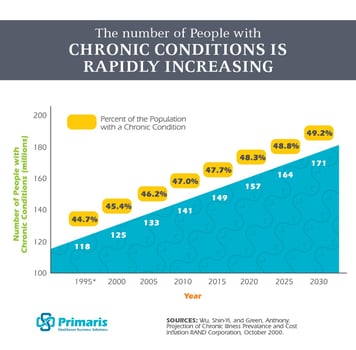 The number of persons with chronic illness is growing at an astonishing rate, as evidence in the infographic to the right, because of the rapid aging of the population and the greater longevity of persons with many chronic conditions. A recent survey suggests that fewer than half of U.S. patients with hypertension, depression, diabetes, and asthma are receiving appropriate treatment.
Why is chronic disease management so deficient? A recent Institute of Medicine (IOM) report attributes the quality gap to two reasons. First being the increased demands on medical care from the rapid increases in chronic disease prevalence and the complexity of the underlying science and technology. Second being the inability of the system to meet these demands because of our poorly organized delivery system and constraints in using modern information technology.
Our care systems were organized historically to respond rapidly and efficiently to any acute illness or injury that came through the door. The focus was on the immediate problem, its rapid definition and exclusion of more serious alternative diagnoses, and the initiation of professional treatment. This is not helping or focusing on patients that will need long term care for their chronic illnesses.
If you are a medical care provider who knows they would like to improve their care of their chronic disease management, seek a healthcare consulting firm. Download our free Checklist for Moving to the Preventative Care Model. It includes many helpful steps to moving your practice or healthcare system to sharpening its focus on preventative care and better management of patients with existing chronic conditions.