Changes that are under way in how the Centers for Medicare and Medicaid Services (CMS) pays for patient care – and penalizes physicians and health systems that fall short of new regulations – were among the topics that Primaris Healthcare Business Solutions CEO Richard A. Royer discussed in a Business of Healthcare video interview.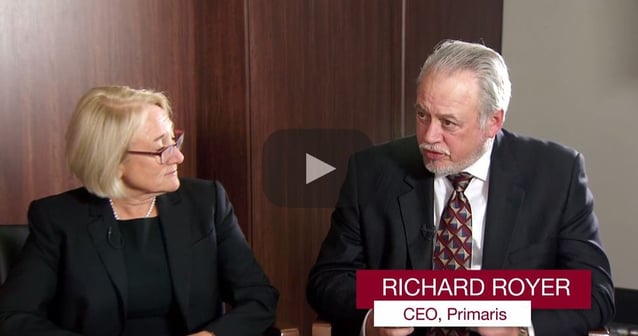 Royer was joined by Orlando Health CFO Bernadette Spong to talk with BOH founder and host, Matthew Hanis. Hanis set the stage for the discussion with the context that quality measures may affect up to 20 percent of physician compensation and 40 percent of health system revenue by 2022. The new reimbursement rules will rely on the quality, process and outcome measures that healthcare organizations report to government agencies and private entities.
The full 36-minute video, "Rethinking Quality Measures," is available here.
Royer confirmed that physician reimbursement will be affected more and more by quality measures and quality reporting. He offered a quick history lesson to show that physicians have been under the Physician Quality Reporting System, or PQRS, for several years. That system along with the requirement for meaningful use of electronic health records (EHRs) created a possible 2 percent penalty for physicians that did not perform well under those standards.
The Medicare Access and CHIP Reauthorization Act of 2015 (MACRA) and Merit-based Incentive Payment System (MIPS) put in place by CMS will change the equation to a penalty or a bonus.
"They're going to move that up through MACRA and MIPS, and if you end up on MIPS, which is where they believe 80 percent of the doctors in the country will be," Royer said, the differential in MIPS when it is fully implemented in 2023 "will be 18 percent from top to bottom – from the person that does everything right to the person that does nothing right."
He added: "So that's a significant amount of money. Talk about 20 percent of my paycheck and you have my attention."
Spong responded to an array of questions about how quality measure reporting will affect employer health plan expectations, health system revenue and patient care.
"I would say pretty significant," she said. Her area major employers are now asking to put quality metrics in their health insurance contracts.
Spong added, "We are seeing a number of employers saying that they're ready to put quality metrics in place and demand that we, as a healthcare provider, ensure that they're getting the highest quality care at the lowest prices."
Orlando Health serves some 1.5 million patients in central Florida across its eight acute care hospitals and 300 outpatient locations.
Primaris delivers 10,000 monthly quality and registry data submissions on behalf of health systems, physician practices, nursing homes, and accountable care organizations.
The recent interview also explored the type of data collected, how it is used – and can be used – for population health management, the ability of health systems to abstract data or consider outsourcing, and the shared observation that many physicians still are unsure what MACRA is.
Royer noted that the transformation from fee-for-service to pay-for-performance – quality of care and value-based care – will require a culture change, perhaps over a generation.
"We're kind of moving into what you could consider the industrialized phase of medicine coming out of the cottage industry, horse-and-buggy phase," Royer said. "And when you look at what the other parts of our economy did, it took 80 years to get from the horse economy to the industrial economy. We're now going through that in healthcare. We're coming out of what we started in the 1930s and we're trying to move to the 21st century before it's over."
Spong pointed out that one of the most painful ways hospitals are penalized is for unnecessary readmissions. The key to avoiding that penalty and preventing readmissions is data analytics that can be "distilled into actionable information."
"That's certainly something that we track," she said. "It's the right thing to do for the patient, but certainly it's the right thing to do financially for the hospital. We get penalized if we have excess readmissions."
Royer said the new rules are coming into place as costs continue to escalate.
"The accountability is now being entered into our side, the provider's side of the industry," he said.
The challenge is getting steeper, even as some physicians are still shying away from technology requirements.
For instance, Spong said, EHR adoption is still lagging.
"There are still physicians out there who have not gone to an electronic medical record and they're still on paper," she said.
Read, "Is Your Healthcare Team Ready for Quality Reporting Success? Who's on First?," to learn how you can build the ultimate line-up to help you identify key players to support this important transition.