Physician Quality Reporting System (PQRS) Feedback reports and Quality and Resource Use Reports (QRUR) reports provide valuable improvement information that can be used to improve the quality of patient care.
A Tax Identification Number (TIN) will have a PQRS Feedback or QRUR report IF ELIGIBLE, even if you did not report any PQRS data. MSSP ACOs, Pioneer ACOs, and Comprehensive Practice Care initiatives are eligible for the Value Modifier Program (PVBM) beginning performance year 2015 and payment year 2017.
PQRS Feedback reports
PQRS Feedback reports depict your program year 2015 PQRS reporting results.
Determine if each provider successfully or unsuccessfully reported PQRS in 2015, Adjustment Summary tab. If successful, you will have a positive 2% payment adjustment on Part B claims in 2017. If unsuccessful, you can delve into more details in the other tabs.
Determine the Total Part B charges for each provider in 2015, Adjustment Summary tab. If you have same expected performance, you can use to estimate PQRS and Value Modifier (VM) impact in 2017 and estimate Merit-based Incentive Payment System (MIPS) impact in 2018.
QRUR
QRURs are how a practice obtains comparative information about the quality and cost of the care provided to Medicare patients. QRURs should be used to:
Verify the accuracy of eligible professionals (EPs) billing under your group's TIN, Table 1 in supplementals.
Examine the number of patients attributed to your group and the basis for the attribution, Table 2A in supplementals.
Show how providers will fare under the 2017 Value-Based Modifier (VM), page 1 in QRUR reports.
If individual reporting of providers, verify at least 50% of the EPs satisfactorily reported and thus avoid the automatic downward payment adjustment in the PVBM, page 2 in QRUR.
Receive assistance finding high-usage and high-risk beneficiaries, Table 3B in supplementals.
Obtain discharge status and unplanned 30-day readmissions of attributed beneficiaries, Table 2C in supplementals.
How to Use the Data for Quality Improvement Efforts
You will first want to use the data to determine which EPs successfully reported PQRS and which didn't, so you can reach-out to provide assistance to those that are struggling. Discover which providers reported each measure and how their scores may have affected your quality score. You will then want to do identify high performers to learn best practices, and identify low performers to target areas for improvement.
The next step will be to develop processes to improve measures, which will improve your quality and overall score.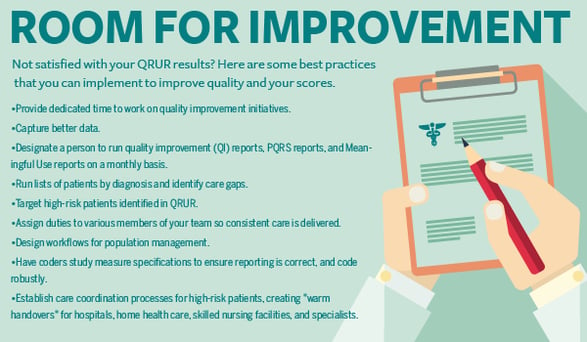 Best Practices to Improve Quality, thus Your Score
If you're not happy with your performance, here are some best practices you can follow to improve:
Provide dedicated time to work on quality improvement initiatives.
Capture better data.
Designate a person to run quality improvement (QI) reports, PQRS reports, and Meaningful Use reports on a monthly basis.
Run lists of patients by diagnosis and identify care gaps.
Target high-risk patients identified in QRUR.
Assign duties to various members of your team so consistent care is delivered.
Design workflows for population management.
Have coders study measure specifications to ensure reporting is correct, and code robustly.
Establish care coordination

processes for high-risk patients, creating "warm handovers" for hospitals, home health care, skilled nursing facilities, and specialists.
Establish better physician communication and reports with specialists. Here are five ideas to start.
Adopt protocals of care development.
PQRS Informal Review and VM Informal Review
PQRS Informal Review and VM Informal Review are open. If you believe your payment adjustments are not accurate, you need to complete an informal review application by November 30th, 2016. To submit a 2015 PQRS informal review request, go to the Quality Reporting Communication Support Page.
Bottom line--this information has been provided to you through these reports, now use it in your quality improvement efforts. Don't waste the data, or the opportunity!
It takes a lot of time and resources to follow all of the best practices mentioned above. The most effective decision for your organzation may be to find an advisor or vendor that you can partner with for help analyzing performance and improving quality, clinical, and financial outcomes. Yes, quality improvement can be done internally, but if you find you don't have the know-how or the bandwidth to make major changes, looking for outside help is a good option.