A study published in the Annals of Internal Medicine concluded that a typical medical practice that assigns non-physician staff to deliver chronic care management (CCM) services is likely to experience significant revenue gains – potentially in the ballpark of $75,000 of net annual revenue if 50 percent of eligible patients are enrolled in a CCM program.
Other estimates put revenue opportunities closer to the range of $10,000 - $35,000. Either way, even though Medicare reimbursements for non-face-to-face chronic care services have been around for a few years, a lot of practices are not billing for CCM or receiving reimbursements. This is despite the fact that many practices are indeed providing chronic care to patients.

So, why are so few eligible healthcare providers capitalizing on opportunities to earn reimbursements? And what will it take to change this?
Answers to those questions may become clearer now that Medicare has opened up new possibilities surrounding chronic care reimbursements.
Regulatory challenges are hurdles.
Some of the reasons providers have not actively involved themselves and their patients in CCM programs include:
Lack of awareness of reimbursement opportunities
Difficulty documenting time spent on CCM
Strict requirements for enrolling patients
EHR challenges
Limited payment opportunities for complex chronic care cases
CMS has started to address these issues and respond to feedback from healthcare professionals by making regulatory changes to CCM billing for 2017. New Medicare billing codes have been introduced and some of the existing documentation rules and requirements have been simplified. As a result, there are more opportunities for healthcare practices to earn reimbursements for chronic care management services today than there were a few years ago. However, as of now, it is unclear what impact these regulatory changes will have on chronic care payment numbers.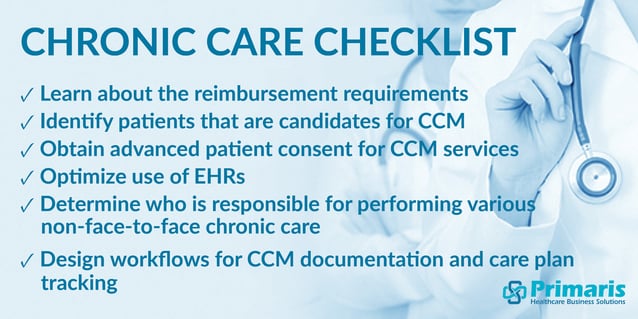 Your chronic care services checklist.
If you are a physician that provides chronic care services and you are not earning reimbursements, now is a good time to change that. Here are a few items Primaris suggests putting on your checklist if you want to work toward being able to collect payments for chronic care services:
Learn about the reimbursement requirements (Try starting with this fact sheet).
Identify patients that are candidates for CCM.
Obtain advanced patient consent for CCM services.
Optimize use of EHRs.
Determine who is responsible for performing various non-face-to-face chronic care.
Design workflows for CCM documentation and care plan tracking.
Primaris can provide assistance if you need help getting your CCM program started, or if you need support along the way. Contact us to learn more about our Chronic Care Management solution.