How deep is the ocean of data that healthcare organizations, accountable care organizations, and physicians must navigate? One clue: there are now 2,100-plus measures for large health systems to track and report.
Though value-based care still seems like a new concept for many healthcare providers and health systems, the new reality has been headed our way for a few decades now. And the new reality of value-based care is not an option for most providers, especially as both public and commercial payers are now driving the train. It's a tall order, indeed, but the data-fueled, value-based care train is rolling full steam ahead with new and challenging payment models.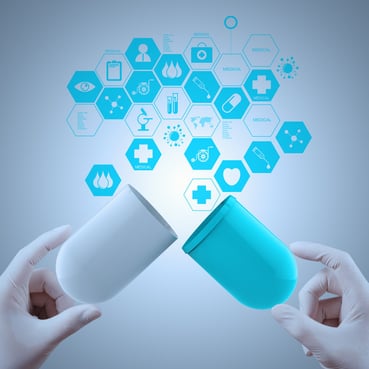 Surely, the change has been rapid – and frequent – and a challenge for physicians and nurses, administrators, and the entire roster of clinic, health system, and hospital staffs. So fast, it seems, that it's easy to imagine the change began occurring overnight, as if it crept up on us under cover of darkness, looming in the pre-dawn shadows and waiting to pounce at first light. No doubt some may dismiss that description as too ominous and over-dramatic; others will certainly nod in agreement. But the transition from volume to value has been under way for a few decades now.
Check out our infographic on the "7 Risks of Using Poor Data."
Along with the flood of data is an alphabet soup of colorful but now-common programs and acronyms. The journey towards value-based care has taken us to the Quality Payment Program (QPP), the Medicare Access and CHIP Reauthorization Act of 2015 (MACRA) and the Merit-based Incentive Payment System (MIPS).
MACRA – which birthed the QPP and MIPS – replaced the sustainable growth rate formula for reimbursing care, putting in place both incentives and penalties for physicians and health systems that fall short of quality measures. The goal of MIPS is to tie 50 percent of Medicare reimburse­ments to a quality reporting and scoring system by 2019.
CMS would like to eliminate fee-for-service entirely – with commercial insurers following along, no doubt – by the middle of the next decade.
Your data is more than just numbers. It tells a story about your patients, your staff, and your organization as a whole. Careful data collection, reporting, and analysis allows healthcare organizations and providers understand specific needs and steps to implement quality improvement initiatives. Quality and clinical performance measures are being used for many purposes including reimbursement, penalties, accountability, outcomes, reputation, and cost reduction.
With the transformation to value-based care and new payment models now in place, understanding the ABC's of the health data life cycle is also more important than ever. The seven stages of the health data life cycle are:
Find the data.
Capture the data.
Normalize the data.
Aggregate the data.
Report the data.
Understand the data.
Act upon the data.
One additional stage, which is a combination of several, is secure, manage, and maintain the data.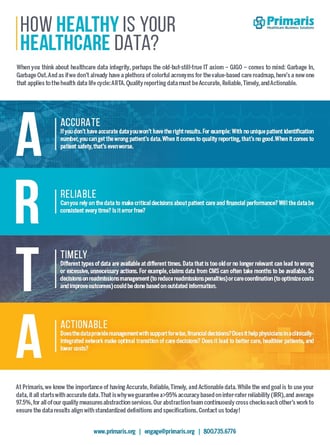 Data is indeed fueling the engine in the seismic shift from fee-for-service to value-based care. That means data is also flooding providers and organizations that are eager to improve both the quality of care – for individual patients as well as populations – and the cost of care. But the deepening ocean of numbers, notes, diagnoses, and other records can easily overwhelm even those who are most prepared. The bottom line is—many providers are drowning in their data, and they can't keep up with quality reporting demands. Does your organization sound like any of the following?
Drowning in all the data and juggling too many records with too little staff time?
Struggling to keep up with quality measure specifications and reporting guidelines?
Trying to free up clinical staff for proactive quality improvement initiatives?
Trying to improve performance on metrics used in quality reporting and value-based purchasing?
If your team is swamped by data abstraction and quality reporting requirements, maybe it's time to look for a partner that can take healthcare data and translate it into actionable quality improvement processes. Outsourcing your data abstraction can save your organization valuable time, not to mention help you avoid these complications and realize true cost savings.
It's more than just a staffing solution and shifting your organization's workload to another company. It's about finding a partner, a group of talented, trained and passionate individuals who will work hand-in-hand with your staff to help process your data and improve outcomes.
Dedicating resources and proper training is crucial to taming the chaos of a highly complex, time-consuming process that significantly impacts an organization's financial and competitive standing. Keeping up with constant changes to reporting requirements is a full-time job — and, remember, it's not an option.
Download our ebook, "Are You Drowning in Data? The Five P's of Outsourcing Abstraction." Click on the image below.