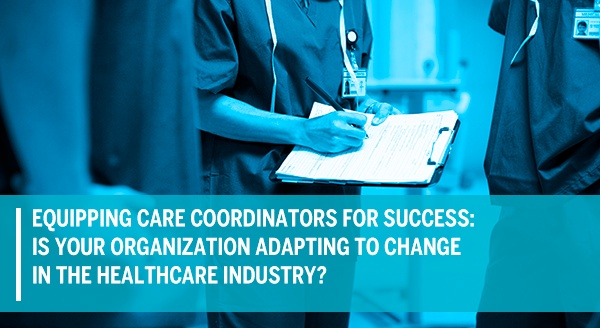 The healthcare industry's ongoing transition to value-based care has put pressure on provider organizations to do more to coordinate care for patients. And, that means medical teams of all shapes and sizes have had to find ways to incorporate care coordination into their services. In some settings that has meant hiring dedicated staff to carry out care coordination efforts. In others, it has led to a shift in the roles and responsibilities of existing staff. The addition of these new care coordinator positions is helping resolve some of the industry's problems that resulted from fragmented care. However, knowing how to bring all these different players together for the benefit of patients is something that the healthcare industry is still learning about.
If you look at the medical field you will find a number of different job titles related to care coordination. Here are a few examples:
Care Coordinator
Care coordinators are clinical care professionals that aim to improve the overall health of a population of patients. They tend to have a wide range of responsibilities that revolve around managing care plans and making sure patients' needs are being addressed.
Patient Navigator
A patient navigator is responsible for helping patients traverse an often-confusing medical system, while removing obstacles in accessing or receiving treatment. They may do things like make appointments for patients, help explain medical conditions, or answer questions about treatment options.
Care Transitions Coordinator
The person serves as a clinical liaison between healthcare providers, patients and families. The sole aim of this position is to ensure continuity of care for patients that are transitioning from one care setting (or facility) to another. They do this by making sure providers are communicating effectively, and by supporting patients during transitions.
The three roles described above are just a few of the many, many positions that have been introduced to manage the coordination of patient care. As primary care practices assign care coordination to staff members, hospitals build teams to coordinate care and tackle readmissions, and other organizations assign case workers to manage patients' needs, there are more human resources available to assist patients than in the past. One of the challenges the industry faces is making sure those resources have a clear understanding of what they need to do to best help patients.
A New York Times article revealed that, when it comes to professionals working to coordinate patient care, sometimes the very people working to organize care need help synching their efforts. The article suggests that because people in various care coordination roles are not communicating with one another, there can still be problems with duplicate efforts and care gaps. This problem of uncoordinated coordination gets relatively little attention. But it is something that needs to be addressed as the industry's efforts to coordinate healthcare are further developed.
Assigning care coordination duties to an army of people across the industry was a first step toward elevating care coordination, safety and efficiency. As more and more healthcare providers dedicate staff to care coordination, the next step needs to be making sure that those people we are relying on to coordinate care have the training and tools they need to fulfill their responsibilities and truly make a difference.