April is dedicated to increasing public awareness and understanding, reducing stigma and encouraging local communities to focus on alcoholism and alcohol-related issues. The National Council on Alcoholism and Drug Dependence, Inc (NCADD) has been sponsoring Alcohol Awareness Month since 1987.
This year's theme, "Connecting the Dots: Opportunities for Recovery", takes a comprehensive approach to addressing underage drinking. Through our subcontracting work with TMF Health Quality Institute, Primaris' Behavioral Health team has been working with physician offices to increase awareness and prevention. In light of this month, they will also be doing their part to spread the word by distributing materials and resources to all of our healthcare partners.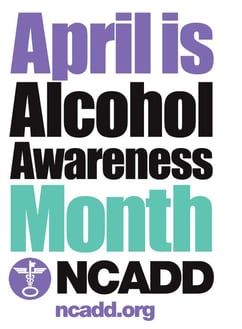 Check out these startling facts provided by NCADD:
88,000 deaths are annually attributed to excessive alcohol use.
Alcoholism is the third leading lifestyle-related cause of death in the nation.
Excessive alcohol use is responsible for 2.5 million years of potential life lost annually, or an average of about 30 years of potential life lost for each death.
Up to 40% of all hospital beds in the United States (except for those being used by maternity and intensive care patients) are being used to treat health conditions that are related to alcohol consumption.
Over time, excessive alcohol use, both in the form of heavy drinking or binge drinking, can lead to numerous health problems, chronic diseases, neurological impairments and social problems, including but not limited to:

dementia, stroke and neuropathy.
cardiovascular problems, including myocardial infarction, cardiomyopathy, atrial fibrillation and hypertension.
psychiatric problems, including depression, anxiety, and suicide.
social problems, including unemployment, lost productivity, family problems, violence including child maltreatment, fights and homicide.
unintentional injuries, such as motor-vehicle traffic crashes, falls, drowning, burns and firearm injuries.
increased risk for many kinds of cancers, including liver, mouth, throat, larynx (voice box) and esophagus.
liver diseases, including fatty liver, alcoholic hepatitis, cirrhosis.
gastrointestinal problems, including pancreatitis and gastritis.
alcohol abuse or dependence – alcoholism.
This image created by Indiana University Health breaks down the areas of the body negatively affected by drinking alcohol.
Drinking alcohol can cause problems in relationships, at work, at home, financially, physically or legally, If you have experienced this personally, or with someone you know, it may be time to get help. But don't worry—there are endless resources out there for organizations and individuals to utilize. Here are just a few:
National Council on Alcoholism and Drug Dependence, Inc. (NCADD)
National Institute on Alcohol Abuse and Alcoholism (NIAAA)
College Drinking: Changing the Culture (NIAAA)
Stop Underage Drinking: Portal of Federal Resources
Centers for Disease Control and Prevention: Alcohol and Public Health
Center on Alcohol Marketing and Youth
Alcohol Policy Information System (APIS)
Primaris is dedicated not only to quality in healthcare, but most importantly, the quality of life for all. Stay tuned for more information from our team throughout the month.