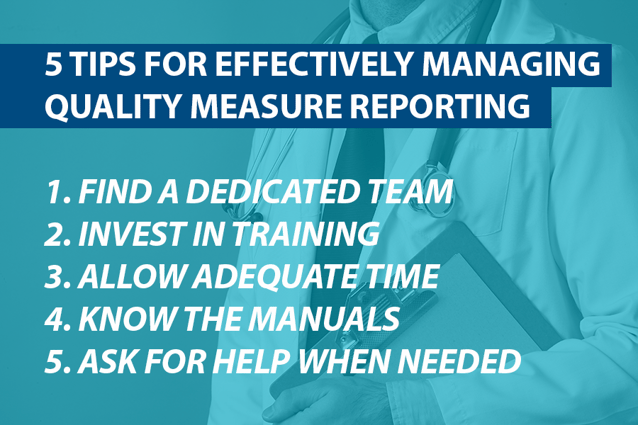 What is the hardest part about managing quality measure reporting? Often it's assumed that the most stressful part of quality measure reporting is achieving quality standards. But the truth is, that isn't always the case. Although the pressure to demonstrate a high level of performance against quality measures is significant, the biggest challenge for providers is actually complying with the complex and time-consuming reporting process.
Here are 5 tips to help make the quality measure reporting process less painful:
1. Find a dedicated person or team to manage reporting, abstraction, and quality improvement projects.
When it comes to quality reporting, consistency is extremely important. If staff is frequently coming and going, and focus on reporting is constantly interrupted, it is difficult to ensure accuracy of data and reporting. So find dedicated staff you can count on to handle quality reporting.
2. Invest in quality measures education and abstraction training.
Many of the people performing chart abstractions and quality reporting within healthcare organizations are self-taught. The issue with this is that there are a lot of nuances that are important to understand, and updates to keep track of related to quality reporting. By providing your staff with specialized training you can help them shorten their learning curve and perform better.
3. Allow adequate time for abstraction.
When charts pile up faster than teams can work through them, the result is a backlog that is a headache to conquer. The solution is simple to understand, do not underestimate the time needed for abstraction and reporting, AND be sure you set aside enough time to complete the tasks.
4. Know the manuals and watch for quality measure updates.
Core measures and registries are constantly changing and being updated. Every time a new measure is introduced or a change is made to a registry, it impacts abstraction and reporting. So it is essential that you follow the changes closely in order to comply with reporting guidelines. This might involve conducting research, reading information from registries and government reporting agencies, attending workshops, or taking other steps to stay informed. If the demands of ongoing research and training seem overwhelming, partnering with a consultant that can keep you up-to-date on changes is a good option.
5. Ask for help when needed.
If at any point you find that working with data from groups of patients is something that is outside of your skillset or scope, ask for help. And do it before you get behind on charts or you are up against reporting deadlines. Consultants can answer your questions and provide training. You can also easily find an external partner (like Primaris) that can handle some of the most tedious parts of abstraction and reporting for you. Doing this lets you can focus your energy elsewhere.
Learning to navigate the various required and voluntary reporting elements is, at the very least, challenging. But hang in there. By follow the steps above and outlining a plan, you can alleviate some of the stress caused by quality reporting.