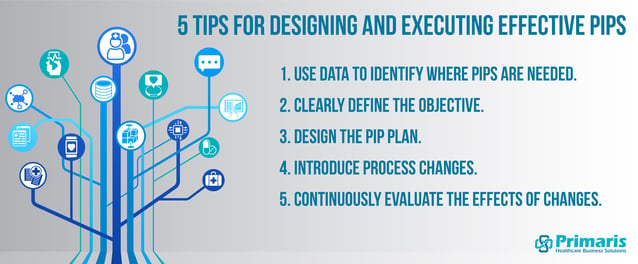 To comply with QAPI regulations, facilities will need to complete a QAPI plan by November of 2017. Part of developing a plan involves outlining guidelines for Performance Improvement Projects (PIPs). Among other things, an overall QAPI plan should include:
A description of the overall plan for conducting PIPs to improve care or services.
An explanation of how PIPs teams will be established.
Defining characteristics for PIPs teams.
Guidelines for documenting PIPs.
Once QAPI plans are written, PIPs teams will need to plan and execute their first project. Below are five steps that teams can follow as they work to design and execute improvement projects. Find a more complete overview, the latest QAPI news, and more resources here.
Use data to identify where PIPs are needed.
The purpose of a PIP is to make deliberate improvements that correct a specific problem or increase performance in a certain area. Not every minor issue that comes up calls for a PIP. Instead, PIPs are typically used to address high-risk, high-frequency problems.
Understanding what improvement opportunities to concentrate on is not always easy. It is essential to use data to help determine where you truly need PIPs, because trying to implement too many performance improvement projects at once gets overwhelming and is unproductive. Teams need to be selective about choosing where to focus improvement efforts. Thorough data analysis is essential for identifying the areas most deserving of PIPs.
Clearly define the objective.
Once a problem is identified and you have determined the broad focus of your PIP, the next step is to clearly define the objective. Put into words the outcome you expect to achieve. Just like any smart goal, a PIP's objective should be specific and measurable. A well-defined objective is easy for staff and other team members to understand. When you are defining your objective, you want to record information about the scope of your project and the timeline or duration of the project.
Design the PIP plan.
How will you achieve your objective? This is the big question that must be answered – and that answer needs to come in the form of a PIP plan. Of course, coming up with a plan to solve a problem is a lot easier when you have an idea of what is causing that problem, so it is important that you leverage data and perform a root cause analysis. Once you identify the root causes of the problem you are working to solve, put strategies in place to address them.
Also, think about any challenges that may arise while you are executing your PIP plan, and put strategies in place to respond to those as well. Be sure that your plan clearly explains who is responsible for executing the various PIP efforts.
Introduce process changes.
When your plan is complete, you can begin rolling out changes. It often works best to roll out changes incrementally. This helps you measure the effects of minor adjustments, and it is usually much easier to manage incremental changes than major process overhauls. You will need to work closely with staff to ensure they are trained and equipped to execute planned efforts.
Continuously evaluate the effects of changes.
Measure as you go and study whether the changes you make are creating the desired results. If not, you may need to course-correct. Measuring progress is incredibly important. After all, the goal is real improvement. You won't know if you are achieving your objective if you don't monitor your results.
Following these steps will help you navigate through the process of designing and executing an effective PIP. There are also many resources and tools available to help with QAPI planning, for example, like this CMS worksheet for creating a Performance Improvement Charter. If you want more resources related to PIP planning, or you could use support to get your efforts on track, contact Primaris.
*Some services under this arrangement may not be available in Missouri. Contact us today for more detail.