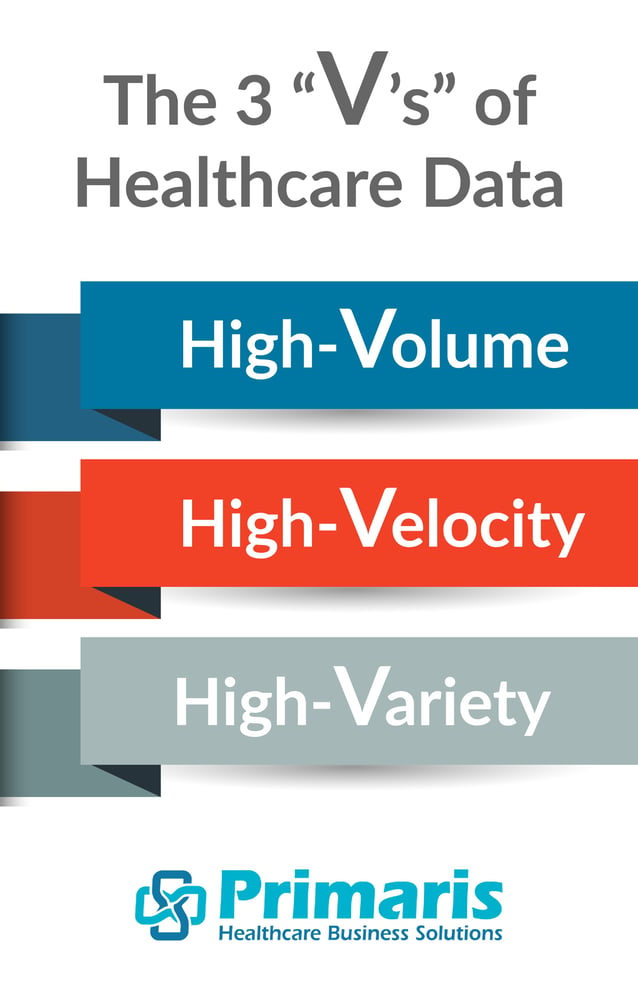 Currently, in nearly every industry, data is generating a lot of buzz – and healthcare is no exception. According to Gartner Research, there are three "V"s associated with the big data movement:
High-volume: the amount of data that is encountered daily.
High-velocity: the rapidity of data changes.
High-variety information: the many kinds of information to deal with.
To make effective use of healthcare data, medical providers must use efficient, accurate, and cost-effective data abstraction processes that empower them to draw on heightened insights, make informed decisions, and implement process improvements.
The role of data abstraction in quality improvement.
In healthcare, data can be used to make a multitude of clinical and process improvements. For example, registry data enables researchers and healthcare teams to evaluate how individuals respond differently to various drugs and treatments based on common genetic markers, gender, age, time of disease onset, and other factors. And, using data to evaluate a population of patients and stratify risk enables providers to develop targeted strategies for treating patients.
The possibilities for applying data to improve processes is seemingly endless. Data can be used to identify a need for a patient portal on a healthcare provider website based on a study of the number of calls to the entity. Data could also be used to develop revised transfer forms for the purpose of better coordinating care during transitions. Or, data can fuel decisions about introducing new technology in order to improve quality and efficiency.
The point is, data is essential for driving so many decisions across healthcare.
Essentials of data collection and use.
Healthcare providers can leverage data to make quality improvements in both clinical and operational processes. But, in order to do so, data must be timely, accurate, and actionable. Following are tips and strategies to help make sure data meets that criteria.
1. Ensure data is captured completely and accurately. Clinicians must take care to chart correctly. Recording patient information incorrectly, or omitting important pieces of information, makes it difficult to abstract data and use it for quality reporting and improvement. Quality teams can work with clinicians to ensure they know what data points need to be captured.
2. Create a team devoted to data abstraction and management. Consistency leads to more accurate abstraction, so it is good to have a dedicated team you can rely on for abstraction. For practices that do not have enough staff to cover data abstraction and analysis, the best solution is to outsource this function to an experienced vendor who can support the practice's efforts. This allows teams to focus on strengths and still gain the insights they need for quality improvement.
3. Be sure to dedicate sufficient resources and time to abstraction so you don't fall behind. Data and insights that are trapped in medical charts are not useful for improving patient care, outcomes, or efficiency. When data abstraction is not prioritized, it gets pushed to the backburner and improvement opportunities are lost.
4. Know the requirements for quality and registry reporting. Registries make updates frequently. Learn what is required, and follow changes, so you can report quality information accurately.
While quality data provides valuable information, abstraction and analysis can be stumbling points for healthcare teams. By learning how to optimize abstraction efforts, or working with a third-party that can perform abstraction and deliver valuable performance insights, teams can gain the intelligence they need to drive real quality improvements.