With time and resources at a premium, healthcare organizations are increasingly selective about allocation of human and financial capital. The focus is on improving operational efficiency, while transforming healthcare delivery. Here are four patient-centered strategies that will help you become more efficient while generating value-based reimbursement:
1. Population Health Management
Population Health Management is the aggregation of patient data across multiple health information technology resources, the analysis of that data into a single, actionable patient record, and the actions through which care providers can improve both clinical and financial outcomes.
2. Care Coordination
Care coordination is the deliberate organization of patient care activities between two or more participants (including the patient) involved in a patient's care to facilitate the appropriate delivery of health care services. Organizing care involves the marshalling of personnel and other resources needed to carry out all required patient care activities and is often managed by the exchange of information among participants responsible for different aspects of care.And taht can be a LOT of people. Take a look below of all the different parties and pieces that may be involved.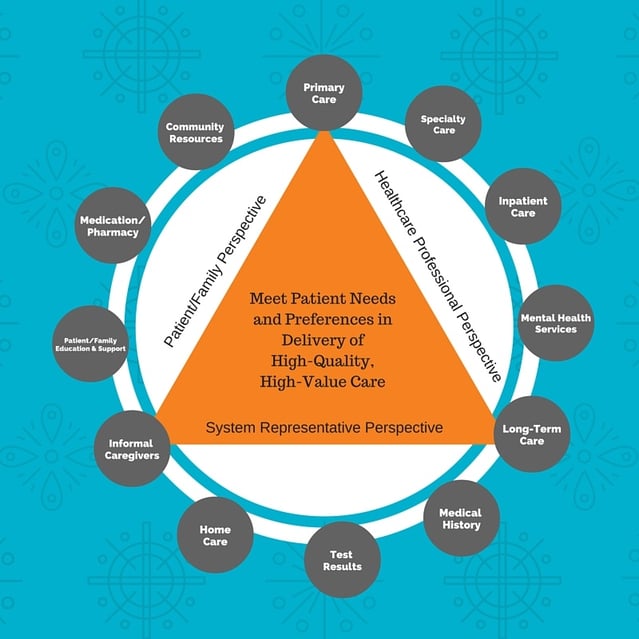 3. Integrated Care Delivery
Integrated care covers a complex and comprehensive field and there are many different approaches to and definitions of the concept. The World Health Organization (WHO) gives the following definition: Integrated care is a concept bringing together inputs, delivery, management and organization of services related to diagnosis, treatment, care, rehabilitation and health promotion. Integration is a means to improve services in relation to access, quality, user satisfaction and efficiency. Favored integrated care models include Accountable Care Organizations (ACOs), Patient Centered Medical Homes (PCMH), and comprehensive primary care.
4. E-Health and Telehealth
E-Health is the rapidly expanding field of health information and communication technology supporting health systems and services. It will allow health care practitioners to act on accurate and up to date health care information when providing care to patients, and lead to improvements in the quality and efficiency of health care delivery. Through the use of telehealth (also known as telemedicine), it will also assist in addressing rural health disadvantage by providing health care services to patients in rural and remote locations.
---
These four patient-centered strategies are essential for success in value-based healthcare. Download the free eBook, "5 Steps for Financial Success in a Value-Based Payment Environment," and use it to maximizing operational efficiency in ways that will lead to better support for changing healthcare payment structures.
---