The healthcare industry is obviously undergoing dramatic change and the seemingly seismic shift from volume-based reimbursement to value-based care will keep reverberating for some time to come. Specifically, the rules around caring for patients—and being compensated for that care—are very different under the value-based payment models that are now in place.
Here are four areas that continue to challenge organizations, providers and their teams, and healthcare executives as they continue to pursue delivering high-value healthcare to patients, while also trying to ensure high-value returns.
1. Poor value proposition.
Payers and partners want lower costs and better clinical outcomes. Doing so creates a value proposition to payers. The Quality Payment Program's (QPP) Merit-based Incentive Program System (MIPS) is the result of that lofty goal. What was once a suggestion is now a mandate: improve your existing processes and technology solutions to better manage your quality measurements. Do you have time to do concurrent activities that improve quality of service? It's not enough to look at data retrospectively, you need to be able to audit concurrently. (Another aspect of MIPS reporting, which is just one month away).
2. Lack of specialized staffing.
If your organization is like most others, it is unlikely that you have the staffing in place to understand all the components—and all the nuances—that go into building an effective quality management system and structure. After all, the healthcare quality measurement industry has grown from nothing into a fairly sophisticated and highly specialized sector in just the last few years. Many healthcare providers are turning to advisory services, consultants, and solutions vendors to help them analyze performance and leverage data to i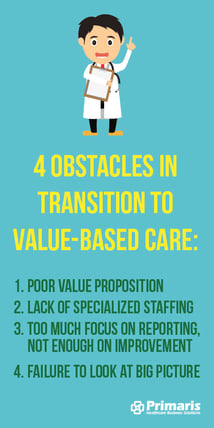 improve quality, patient safety, and clinical and financial outcomes.
Read, "Do You Have Your Team Line-up for Value-based Care?," to create the ultimate line-up to help you identify new players worth considering as additions to support this important transition.
3. Too much focus on reporting, not enough on improvement.
Quality measures are about more than meeting requirements and reporting results to CMS and the Joint Commission. Maintaining high performance on these measures is in the interest of quality of care and has an impact on patient outcomes, including readmissions and mortality. Quality measures are created based on studies spanning decades. The basic idea is if you implement this quality measure, you'll improve outcomes. Many of the measures are around hospital infection. Infections cost money and lead to readmissions; both affect your bottom line. In a health care system with increasingly limited resources, it is important to shift resources from quality measurement and reporting to quality improvement, which is the ultimate goal of measurement.
4. Failure to look at big picture.
What we're now rapidly moving towards is an environment which the payer community will want to pay a group of providers, home health, pharmacy, physicians, hospitals, and nursing homes based on well they take care of patients. All of those entities have to work in a collaborative sense to ensure ongoing communication across individual facility boundaries. That's where population health management comes into play. In fact, pop health was already in play, but it's now finally identified as a crucial element, if not the crux, of what value-based care is all about.
Executives can avoid these common pitfalls and push forward for high-value patient care and strong financial returns for their facilities or practices. Quality directors, practice managers, and others who want help navigating the volume-to-value landscape can get in touch with a Primaris representative to discuss the value of partnering with a friend who has more than 30 years of experience in this journey.
Check out our website at www.primaris.org and download our eBook, "The Primaris Story," for more details about our role as a pioneer in the shift from volume-to-value. You'll also learn more about us in the first episode of our new podcast, "Quality Talk."