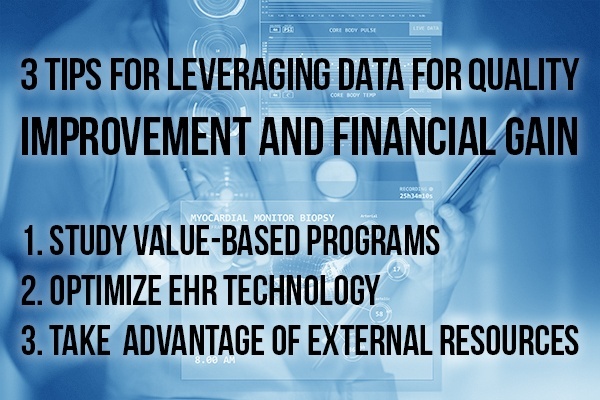 The second quarter of Year 2 of the Quality Payment Program (QPP) got started on the heels of quality data first year reporting deadlines - at the end of March. Even as physicians and practice managers hit "send" on their data submissions, they were already in the midst of the second reporting year, which will require 12 full months of quality reporting rather than an optional 90 days.
Note: The Centers for Medicare and Medicaid (CMS) will list QPP-reporting eligible clinicians at some point during this second quarter.
Meanwhile, as CMS continues to examine ways to lessen the digital and data reporting burden, clinicians also must manage the increasing challenge of maintaining the "human touch" of the doctor-patient relationship. In many ways, it's the "new reality" for medicine as the healthcare reimbursement landscape shifts dramatically from the fee-for-service model to value-based care.
---
The Year of the Patient: Value-Based Care Transforms Patients Into Consumers
---
Most industry leaders, including AMA President Dr. David Barbe, say the value-based care era is here to stay and to expect further refinement of payments models, but not their elimination. And that means an even greater emphasis on the importance of data. Financial success will now rely on a commitment to quality improvement.
To obtain the valuable information and insights needed to guide quality improvement efforts and meet performance measures that are required for financial reimbursement, physicians and other healthcare providers must leverage data.
The following three tips offer guidance on using data more successfully for quality improvement and financial gain.
1. Study value-based programs and create a plan for maximizing reimbursements.
Data is an essential commodity under value-based payment programs that reimburse healthcare providers according to quality and outcomes. While providers can boost their revenues through these programs, they also risk reduced earnings if they cannot demonstrate that they meet the requisite quality standards.
The QPP and one of its offspring, the Merit-based Incentive Payment System (MIPS), has four performance categories – Quality, Advancing Care Information, Improvement Activities, and Cost - each with different quality measures. Providers must use data to measure their performance throughout the year if they want to ensure they are on track to meet quality thresholds, avoid penalties, and earn maximum reimbursements.
Another example of revenue-connected initiatives is the Hospital Readmissions Reduction Program (HRRP), which establishes the requirement for CMS to withhold payments from hospitals with excess readmissions. By leveraging data, hospital and health system providers can identify causes of readmissions, recognize when patients are at risk, and put plans in place to prevent readmissions.
---
More Than Money: 5 Reasons to Maximize MIPS Scores
---
2. Optimize EHR technology.
Electronic health records (EHRs) help providers maintain valuable data on patient outcomes, prior health information, and other essential health factors. If providers use this information properly, they can identify and stratify risks, prevent or control diseases, and help patients manage their health. All of this can improve patient outcomes while saving money.
Of course, one of the lingering and critical issues with EHRs and other digital-collection systems is interoperability both within health systems and among health systems that seek to integrate their digital records and conversations.
3. Take advantage of external resources.
Data collection and analysis is a highly complex process, and many organizations lack the expertise to carry it out effectively. Two effective analogies that illustrate this challenge are frequent questions healthcare providers are asking: "Are we wearing too many hats to do all of our jobs efficiently?" (Does patient care and process improvement take a back seat?) And, "Are we drowning in data?" (There's an ocean of the stuff out there and it must be abstracted, reported, and put to use.)
An important thing to note about data: it is only useful if it is current and correct. Primaris has been providing data abstraction services and quality improvement solutions for more than three decades. If you are interested in learning more about Primaris' data abstraction services, contact us today.