As you probably realize, financial success in the age of value-based payments requires a commitment to quality improvement. To obtain the valuable information and insights needed to guide quality improvement efforts and meet performance measures that are required for financial reimbursement, physicians and other healthcare providers must leverage data.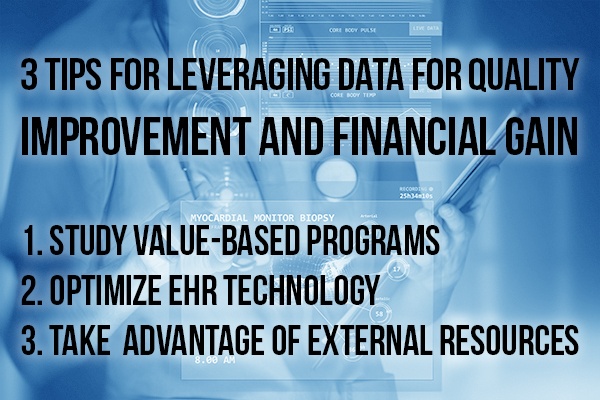 The following three tips offer guidance on how you can use data more successfully for quality improvement and financial gain.
1. Study value-based programs and create a plan for maximizing reimbursements.
Data is an essential commodity under value-based payment programs that reimburse healthcare providers according to quality and outcomes. While providers can boost their revenues through these programs, they also risk reduced earnings if they cannot demonstrate that they meet the requisite quality standards.
Two examples of value-based programs that significantly affect payments and require teams to rely heavily on data insights include:
MACRA's Quality Payment Program (QPP)
Providers that participate in the QPP need to become skilled at using data. The QPP has two different pathways providers can choose from. One of those paths, the Merit-based Incentive Payment System has four performance categories – each with different quality measures. Providers must use data to measure their performance throughout the year if they want to ensure they are on track to meet quality thresholds, avoid penalties and earn reimbursements.
The Hospital Readmissions Reduction Program
Under the Hospital Readmissions Reduction Program (HRRP), CMS is required to withhold payments from hospitals with excess readmissions. By leveraging data hospital and health system providers can identify causes of readmissions, recognize when patients are at risk, and put plans in place to prevent readmissions.
Healthcare providers must identify exactly what types of information they need for reporting under value-based programs. Once you know this, you can determine how much of that data clinicians are currently gathering, and develop plans to fill in any gaps. Only by recording the right data, and having abstraction processes in place that make data useable and valuable, can your organization successfully avoid penalties and earn reimbursements from value-based programs.
2. Optimize EHR technology.
Electronic health records, or EHRs, help providers maintain valuable data on patient outcomes, prior health information, and other essential health factors. If providers use this information properly, they can identify and stratify risks, prevent or control diseases, and help patients manage their health. All of this can improve patient outcomes while saving money.
In addition to improving outcomes and finances in the long run, EHRs also allow healthcare facilities to take advantage of data-based financial incentives. Under MACRA's Quality Payment Program, for example, healthcare providers must meet a number of different performance goals, including required activities under the Promoting Interoperability category, which essentially involves EHR use. (We've also known this requirement as "meaningful use.") By optimizing EHRs, you can better position yourself to meet the eligibility requirements for financial rewards.
3. Take advantage of external resources.
Data collection and analysis is a highly complex process, and many organizations lack the expertise to carry it out effectively. If data abstraction or management is a weakness, or if it puts too much strain on internal resources, then it is time to look for an external partner that can provide the services and data insights you need.
An important thing to note about data: it is only useful if it is current and correct. Primaris has been providing data abstraction services and quality improvement solutions for more than three decades. If you are interested in learning more about Primaris' data abstraction services, contact us today.