When done right, QAPI involves systemic change at every level across a nursing home facility. Change of this magnitude requires a lot of time for planning, training staff, evaluating progress and so on. Because it is such a big undertaking, and most teams are learning as they go, every nursing home should expect to face challenges as they create their plan and implement a QAPI program. Below are ten simple and effective steps that should make building your QAPI program a bit easier.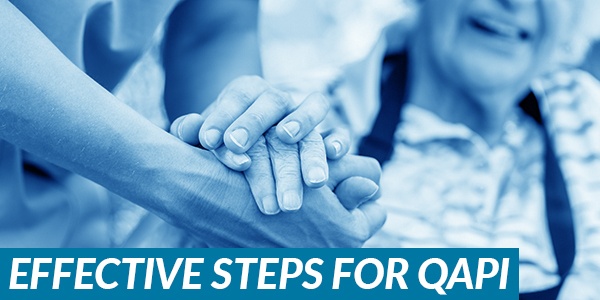 1. Start with an initial quality assessment. Before you plan any new improvement projects, look at what is working for your residents, your staff, and your facility. Then, look at what is not working, and why.

2. Examine low-performing areas across your entire organization. Document the weaknesses you find and look for the hidden opportunities tied to each area.


3. Include residents and their family members on your QAPI committee. Make residents part of ongoing quality improvement efforts. Meet with them periodically to collect feedback. This helps you view quality from another perspective, and it gives you insights you need to develop patient-centered initiatives.

4. Review the processes you have in place for collecting data from different sources. Reliable data is essential when working to make quality improvements. Make adjustments if your data doesn't give you the insights you need to plan strategic quality improvements.

Download "Adapting to Change: A Value-Based Performance Guide for Nursing Homes" for guidance on how to get ahead of changes by making quality improvements now.

5. Put your data to use. Make the most of the data you have available. Leverage data for root-cause analysis. If you are not comfortable working with data (or you lack expertise in this area) get support from an experienced vendor that offers data analytics and root-cause analysis.

6. Write a QAPI plan that can be easily implemented. Be wary of templates or programs that don't take into consideration the unique attributes of your facility and the needs of your residents. Your final QAPI plan must be tailored to your organization, otherwise you may have difficulty executing your plan, or it simply may not be effective.

7. Commit to a complete culture change. Make sure QAPI is treated as more than a plan. After you write the plan, don't stop there. Put the quality improvement strategies you developed into action, and work continuously to transform your organization's culture into one that is quality-centered.

8. Evaluate staff training readiness. Take time to evaluate your staff and provide QAPI training where needed.

9. Perform regular reviews. Review your progress periodically. Doing so will help you keep quality improvement efforts on track. Plus, it will help you catch issues that could earn your facility citations and prevent five-star ratings.

10. Find a knowledgeable partner. Nursing homes can either try to navigate QAPI on their own, or get help from an experienced consultant. Don't let yourself get overwhelmed. Companies like Primaris deal with QAPI on a daily basis and can provide support across every point of planning and implementation.


These tips only scratch the surface. For a more detailed look at building a QAPI program, check out this whitepaper: Quality Initiatives: Building a Consistent and Effective QAPI Program.