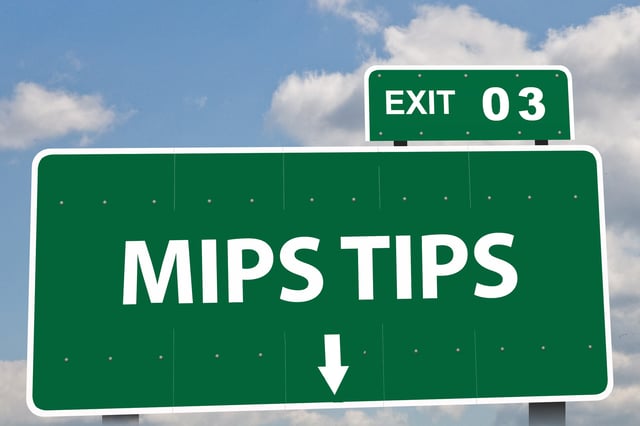 What does it take to be successful to participate in the Merit-based Incentive Payment System (MIPS), one of the Medicare reporting and reimbursement pathways in the Quality Payment Program (QPP)? Learning the answer to that question can help you earn Medicare payment incentives and avoid penalties. Of course, there are many things healthcare teams must do if they want to optimize their MIPS scores and earn maximum reimbursements. Below are 20 tips to help you get on track to earn maximum payments. You can consider this your MIPS to-do list as you prepare for quality reporting in 2018.
Verify your MIPS eligibility by checking the QPP's "participation status" web page.
Consider whether you belong on the MIPS or APM pathway. Learn about the benefits and what it would take to move to an Advanced Alternative Payment Model.
Know whether you will report as an individual or a group. (Explore the possibility of joining a virtual group in the future.)
Plan to participate at the highest possible level – submit a full year of data if you can.
Learn about the available options and tools you can use to submit your data.
Determine what internal and external resources you need to manage data abstraction and reporting.
Consider outsourcing data abstraction to ensure your reporting data is accurate and you can submit it on time.
Work with your clinical team to ensure that the right data is being captured for reporting.
Learn about the new CMS Web Interface.
Note the MIPS deadlines. (This includes when you must submit data, when you must apply for group reporting, and so on.)
Be sure you are familiar with the MIPS performance categories and how each is weighted. (For 2017: Quality = 60%, Advancing Care Information = 25%, Improvement Activities = 15%, Cost = 0%). Note: the weights are slightly different – still zero for cost – for Track 1 ACOs.
Determine what quality measures you will need to submit data for.
Develop a strategy for maximizing your Quality score: make sure you can compete with historical peer benchmarks for the measures you select.
Develop a strategy for maximizing your Advancing Care Information score: plan to complete your security risk analysis (SRA) and devise remediation actions.
Develop a strategy for maximizing your Improvement Activities score: choose improvement activities suited to your practice and identify opportunities where you can earn bonus points.
Explore options for participating in a clinical data registry. Registry participation can help you earn additional MIPS points.
Investigate how you can earn full credit for the Improvement Activities category if you are a patient centered medical home (PCMH).
Allow time to analyze data prior to submission in order to maximize your score. This identifies all data sources and any workflow or charting issues.
Learn what CMS resources are available if you have questions about MIPS compliance and reporting.
Contact Primaris to learn how we can complement your existing team and skills to help you comply with MIPS requirements and optimize your score.