Here is a tip for long-term care facilities and hospitals that want to make communicating transfer information more efficient: For every transfer, communicate three must-know patient details upfront. More specifically, reach out and share the three most important things about a patient that the receiving side needs to know.
If you make this a shared habit between you and the hospitals or nursing homes in your area, you can save time and ensure that the facility the patient is transferrin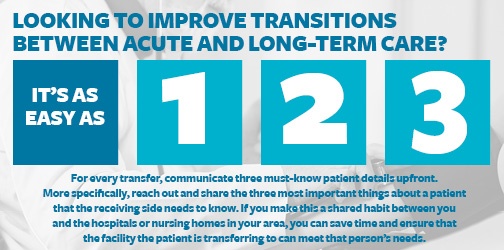 g to can meet that person's needs.
Why is this tip helpful? For one thing, it brings to the surface key pieces of info that would otherwise be buried in pages and pages of patient data, lab results, and health history information.
Everyone today seems to have a checklist of required patient data they need for admission. With so much requested patient data, lab results, and more, there is an information overload problem happening right from the start.
Read More