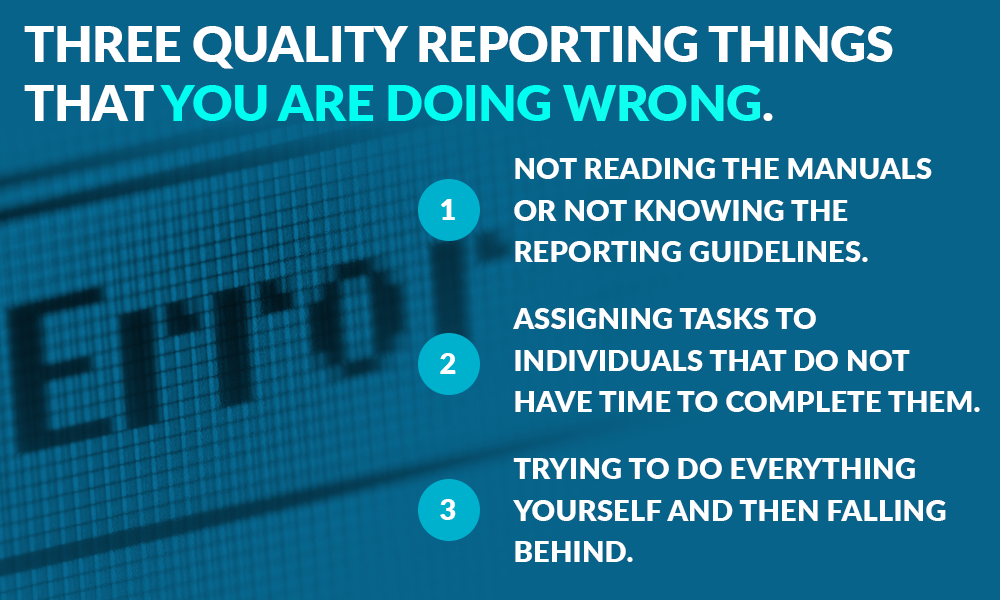 At Primaris, we hear a lot of stories from healthcare teams about their struggles with quality reporting. Let me just say, we feel for you. Quality reporting is taxing. It is complex. It takes time and a particular expertise that, to be honest, a lot of healthcare teams don't have. Considering all of the challenges that reporting brings, it is important that you don't contribute to your own stress or make the process more difficult than it already is. While that statement might seem obvious, we frequently encounter individuals and groups that are unknowingly putting more strain on themselves by making some key mistakes.
Here are three common missteps that create additional stress and misery during the reporting process:
1. Not reading the manuals/knowing the reporting guidelines.
There are a lot of details involved in quality reporting. Core measures and registries are constantly changing and being updated. Every time a new measure is introduced or a change is made to a registry, it impacts abstraction and reporting. So it is important to study those changes closely in order to comply with reporting guidelines. If you don't feel like you are able to commit to learning all the fine points of reporting, you should consider working with a consultant.
2. Assigning tasks to individuals that do not have time to complete them.
It is hard to find time for data abstraction, analysis, and reporting. We get that. However, too many healthcare providers are drowning in data – they can't keep up with quality reporting demands and it is because they try to assign responsibilities to individuals that don't have the bandwidth to take them on. Then charts pile up and a backlog grows. Catching up is difficult once you get behind – so there is often a lot of anxiety surrounding deadlines. The solution is simple to understand: do not underestimate the time and resources that are required for abstraction and reporting. And don't overload your staff, or else you will face unnecessary problems.
3. Trying to do everything yourself and then falling behind.
As mentioned above, it is hard to get caught up on reporting once you fall behind. Sometimes teams know that working with data is outside their scope or skillset, yet they are reluctant to outsource data abstraction and other work because they believe it is too costly. It is important to know that if you ever begin to feel like you are in over your head, you need to find support. (And you need to do this sooner rather than later.) If you outsource the more tedious tasks, like data abstraction, you will find that internal staff has more availability to focus on value-added tasks, like making quality improvements.
Don't forget, when you know better you can do better. So make sure that you are not committing any of these errors, or you will be partly to blame for your reporting headaches. And if you think that you might be inadvertently making other reporting mistakes and adding to your own stress, get in touch with us. We offer free consultations and would be happy to chat about how you can make quality reporting easier.