Through our work as a subcontractor for TMF Quality Innovation Network-Quality Improvement Organization (QIN-QIO), the Primaris' Physician Office Team supports behavioral health integration in primary care settings by working with Missouri clinics to regularly screen patients for alcohol and depression. We support organizations in the various stages whether starting new or imp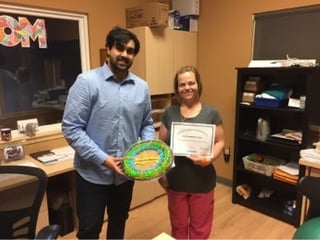 roving an established process. From selecting screening tools, assisting with workflow planning, to training resources, patient education materials, and coding and billing guidance, Primaris has a wealth of resources to support these efforts and ensure sustainability. With emerging research on the bi-directional relationship between behavioral health and chronic medical conditions and the associated healthcare costs, insurers offer coverage for these preventative services that are worth the minimal time to provide them.
Primaris recently presented an Outstanding Achievement Award to True Care Medical Clinic in Hillsboro, MO for implementing regular alcohol and depression screenings with their adult patients, a first step in behavioral health integration in the primary care setting. It didn't take long for True Care to implement behavioral health screenings into their workflow and in less than six months after implementation, primary care physician Dr. Sudhirkumar P. Shah's performance rate for depression screening and follow-up was near 100%. Not only did True Care successfully integrate these practices for better patient outcomes, but their Compliance and SWOT Official, Saager Shah, has been instrumental in sharing their strategies with our team for the benefit of other clinics, including time saving templates and reimbursement tips.
To learn more about our work with behavioral health integration in Missouri, contact Program Specialist Cate Nagus.