There is no question that nurses can handle anything that gets thrown their way. After all, nurses are sometimes described as superheroes in scrubs. They work long hours and take on many different roles. Nurses also seem to possess a personality trait that makes them unafraid of challenges. So when there is a job that is falling through the cracks and really needs to be done, nurses are often willing to step up and do it – even if that means making time in an already overcrowded schedule. Because of the "can do" attitude nurses display, it is frequently a hospital's nursing staff that assumes responsibility for data abstraction. But does this make sense?
Although nurses might be willing to take on data abstraction, there are several reasons why outsourcing this tedious work is much more practical. Here are a few of those reasons:
Nurses are in demand and many priorities compete for their time. Data abstraction that gets tacked on to a lengthy list of other responsibilities rarely gets adequate attention. On the other hand, abstractors that focus solely on pulling data, cleaning it up and submitting it to the appropriate outlets can give the task much more care. This extra attention to detail makes it easier to reduce errors, spot trends, and recognize insights that are necessary for quality improvement.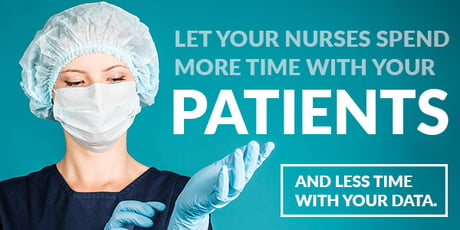 Nurses typically are not given much abstraction training. The thing about data abstraction is that there are a lot of nuances that are important to understand. However, without much training or experience, it is difficult to make certain distinctions that are necessary for accurate data abstraction. For example, a single registry that a hospital submits data to could have 150 data elements or more. This includes risk adjusted measures and elements that can be reported in various ways. Knowing all of the requirements for multiple registries, on top of CORE measures, is nearly impossible without adequate training.
Even with proper training, there are regulation changes to keep up with. Every time a new CORE measure comes out or a change is made to a registry, it impacts abstraction and reporting. Abstractors must be vigilant about keeping up with adjustments and guideline changes. Few nurses have the bandwidth to continue educating themselves on new developments while still managing their other responsibilities. This is a primary reason many of Primaris' clients outsource data abstraction – they prefer to rely on an external partner that closely follows regulation changes.
For the reasons listed above, and many others, outsourcing data abstraction to an experienced partner is generally a much better option than piling the work onto nursing staff. After all, when nursing teams aren't assigned grinding abstraction work, they can use their superpowers more effectively to create an even larger impact.