Join us as we celebrate all of the amazing nurses and the impact you have on patients and the delivery of quality healthcare during National Nurses Week—taking place this week. The American Nursing Association (ANA) has designated 2017 as the "year of the healthy nurse" and invites us to celebrate those that lead the charge for health and wellness. This year's theme for National Nurses Week is, "Nursing: the Balance of Mind, Body and Spirit."

Nurses are Superheroes.
There is no question that nurses can handle anything that gets thrown their way. After all, nurses are sometimes described as superheroes in scrubs. They work long hours and take on many different roles. Nurses also seem to possess a personality trait that makes them unafraid of challenges. So when there is a job that is falling through the cracks and really needs to be done, nurses are often willing to step up and do it – even if that means making time in an already overcrowded schedule. Because of the "can do" attitude nurses display, the list is endless of what a day in the life of a nurse may consist of.
That's not even the best part. While performing their daily duties and "others as needed", they do so with compassion and the highest quality of care, while following best practices and ethical standards. For this and many other reasons, we take this week to say, "THANK YOU!"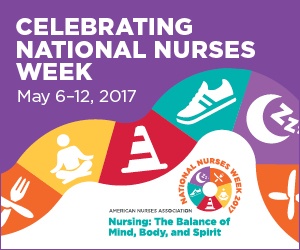 How can you participate?
Attend FREE Webinar (and share with all nurses).
Don't miss out on ANA's free webinar, A Nurse's Guide to Preventing Compassion Fatigue, Moral Distress, and Burnout. The webinar takes place on Wednesday, May 10 at 1 p.m. EST. Think back to why you first became a nurse. Like most nurses, the desire to help people was probably high on your list. Unfortunately, sometimes the realities of nursing can clash with your expectations. There is a body of research that can increase your resilience, reignite your nursing heart and soul, and help you identify and manage compassion fatigue, moral distress, and burnout before they consume you. This webinar will share tools and strategies to infuse meaning, joy, and restoration into your practice and your life.
Download the Resource Toolkit.
The ANA has provided a number of great ideas for how we can show appreciation for nurses in their Resource Toolkit. They've provided templates for a Thank You Card, Certificate of Appreciation, email blast and more. You can download the toolkit here.
Fun Fact: Did you know that National Nurses Week is positioned around May 12, which is Florence Nightingale's birthday? Download a copy of the founder of modern nursing's pledge here.
We appreciate nurses everyday, but it's nice to dedicate a week to show our gratitude and support for the difference you make everyday. How is your organization celebrating nurses this week?